Let's be real – being a parent is tough work. If you're about to have a baby or know someone who is, I wanted to round up a few eco-friendly gift ideas for babies and new parents!
I hope these gifts will make a sustainable lifestyle a little bit easier all while juggling a new born.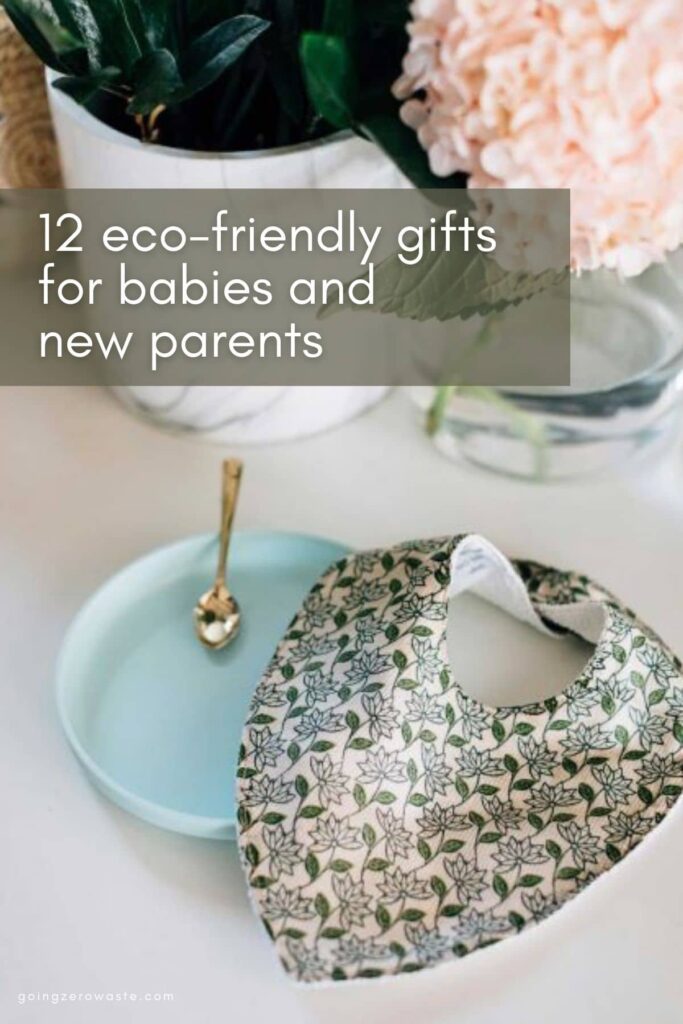 Even though I am making product recommendations, be sure to check out the secondhand market and reach out to other parents for hand-me downs.

I am in the stage of life where many of my friends are having children, I've gone to a few baby showers and always love to find secondhand books and baby blankets from our local children's consignment shop, paired with an organic cotton onsie and it's always a hit.
I have a rule about not buying any cloth diapers unless the parent's specifically state they're going to be cloth diapering and you can read more about that in my post Zero Waste Baby Shower Gift Ideas.
Below, you'll find all sorts of inspiration from upcycled baby bibs to clothes that grow with your baby, you're bound to find something perfect for your (or a friend's) little one!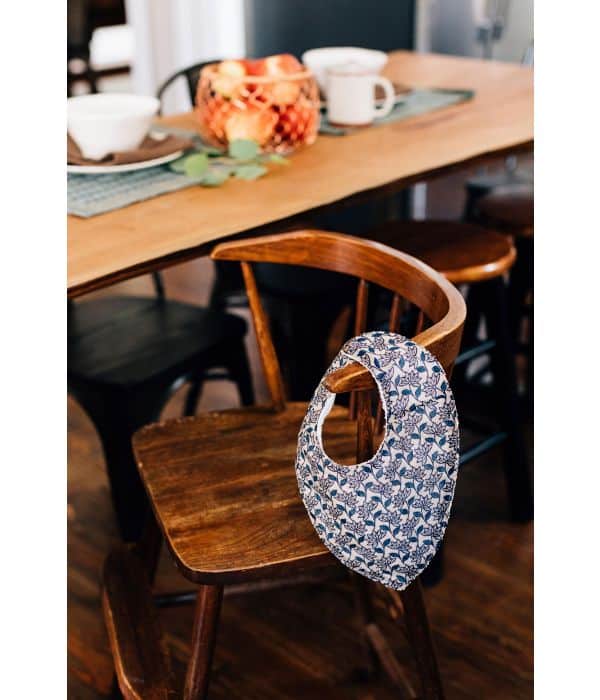 1. upcycled sari baby bibs:
You know I love the vintage sari quilt on my bed. So, I think these these upcycled sari baby bibs from 10,000 Villages are amazing!
They're lovingly laundered, then hand-stitched by artisans in Prokritee, Bangladesh.
These fair trade bibs are made from recycled cotton sari, cotton and metal snaps (so no plastic). The snaps are adjustable and have a terry cloth backing for absorbency.
You'll get a set of 3 in a pack. Because they are made with recycled textiles, each item is as unique as the woman who made it. I love the fact these women collect discarded sari textile to make the bibs!
The purchase also helps create and support bright futures for moms and babies in villages across Bangladesh. Fair trade provides fair and stable income to women who would otherwise not have access to employment opportunities.
2. ash pants:
These ash pants by Jackalo are super cute – and sustainable. Jackalo only uses 100% certified organic cotton that is also fair trade. All their garments are ethically made in Portugal.
Their garments are designed to fit two times longer, so they're made with longevity in mind.
Even cooler is their commitment to circularity: You can send back outgrown Jackalo clothes and get $15 off your next purchase. They'll wash, repair and resell them at a discount.
Better yet, if a Jackalo item rips within 6 months of purchase they'll repair or replace it free of charge.
Their main focus is to move towards zero waste by saving their production scraps and turning them into accessories, and by buying back outgrown clothes to be resold or upcycled.
Get 15% off your order using the code "ZEROWASTE" on their site.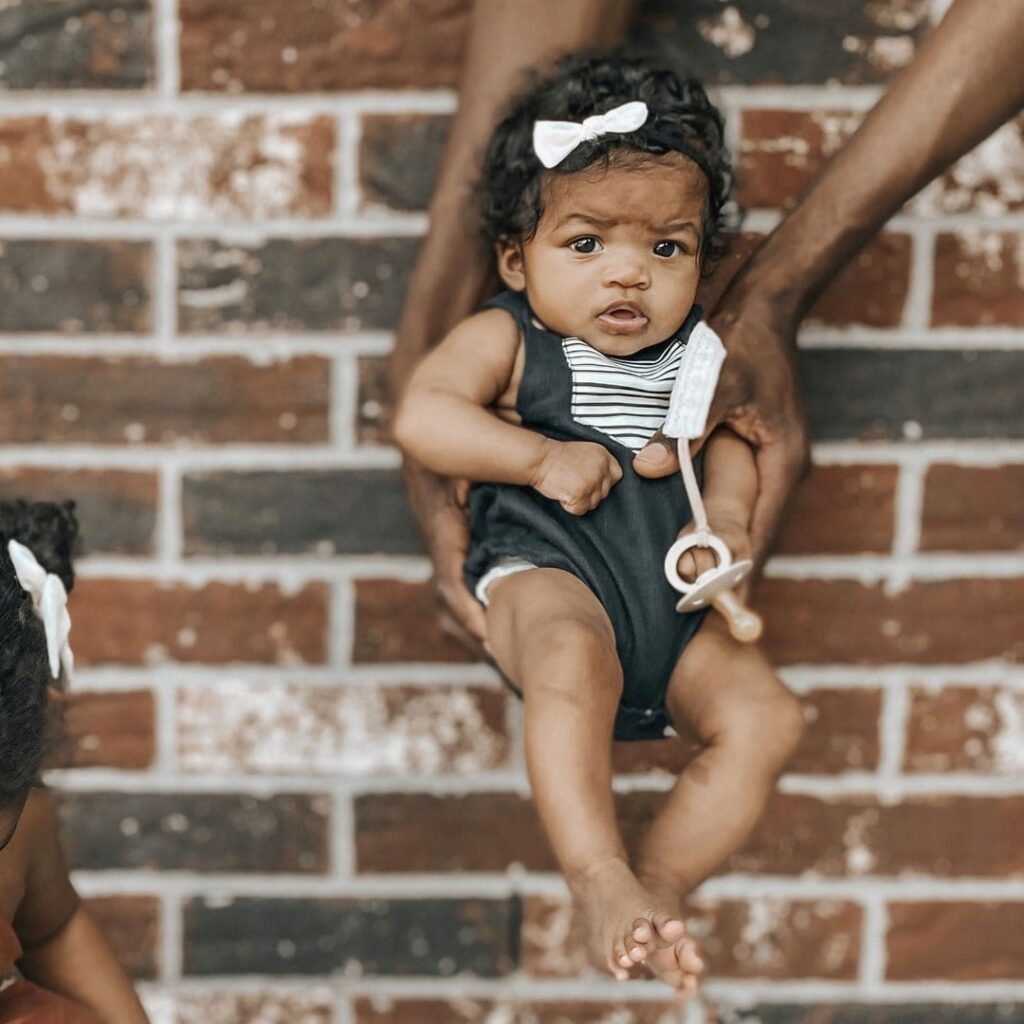 3. black and white romper:
Beya Made's black and white romper is so cute, sustainably made and gender neutral. And, it's designed to adjust as children grow, allowing them to fit three times longer than other brands.
This particular romper is made from soft durable black linen. The straps are cut long and feature two rows of snaps – you just tie or twist in back for a perfect fit as children grow.
The two rows of snaps at the crotch provide even further vertical adjustability. Plus, the elastic waistband is comfy and expands with growing tummies.
Because these clothes grow with the child, parents won't need as many clothes to begin with. That definitely helps save new parents money – making it a very thoughtful gift.
Beya Made sells shirts, pants and rompers. All of their outfits are made in the USA, right in Atlanta, GA.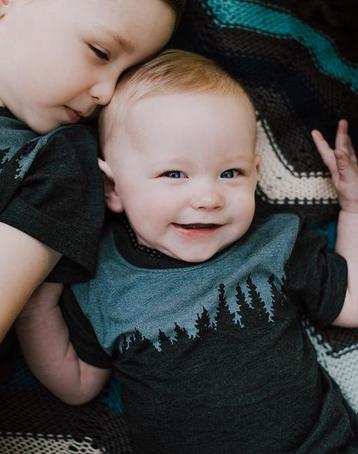 4. future planter t-shirt:
Want to inspire kids to be kinder to the planet? This future planter t-shirt by tentree is made from sustainable materials that plants ten trees with every purchase.
The shirt is made from 45% recycled polyester, 30% tencel lyocell, and 25% organic cotton. Tencel lyocell is made from eucalyptus wood pulp exclusively in sustainably managed, controlled and certified forests.
I love the fact this shirt encourages little ones to care about the planet – and reflects the good done to create the shirt.
Tentree also sells other kids shirts – all of which are made using sustainable materials and help plant actual trees.
5. cloth diapers
Every year, over 37 billion disposable diapers end up in landfills in this country. These cloth diapers are reusable and this inner is made from 100% organic cotton that's uniquely layered for max absorbency.
Don't forget to pair this inner diaper with the outer diaper: These are a two-part diapering system to ensure it's leak-proof. Both are easy to snap on and adjust.
The outer is made from 100% recycled polyester with a waterproof TPU laminate. Outers come in two sizes and are designed to grow with the baby.
The best thing about the outers is you can also use them as adorable swimmers!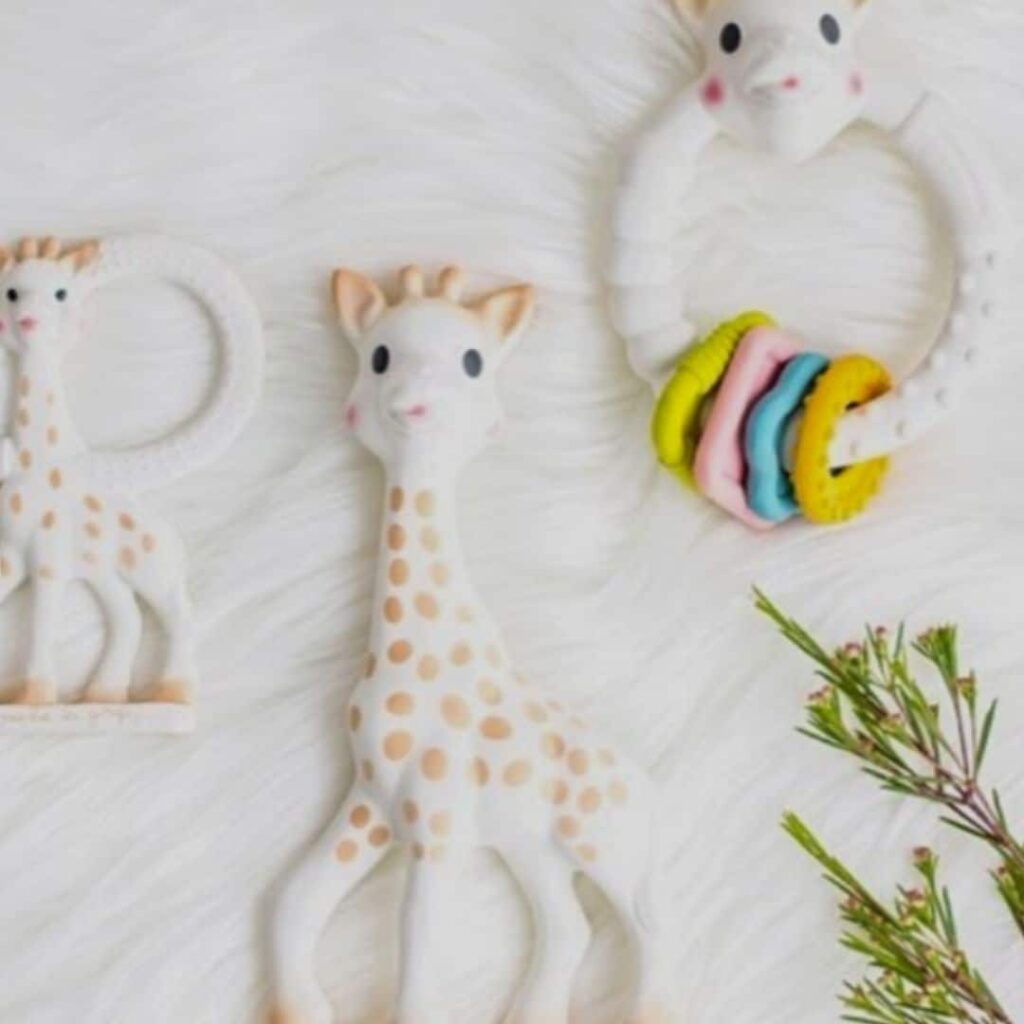 6. natural rubber giraffe teething ring:
Teething can be tough – on both parents and babies. This natural rubber giraffe teething ring makes a perfect gift for new parents that need a break from a crying, teething baby.
The teething ring will help soothe painful gums and entertain little ones all at once. It's made from eco-friendly rubber that's BPA-free and non-toxic.
The curved surface adapts to a baby's mouth for additional comfort. It's lightweight, durable, vegan and made with low-impact dyes, so it's completely safe for babies. In fact, this teether encourages healthy oral development and sensory learning.
7. for postpartum:
Life after giving birth isn't exactly easy on the body. A lot of women bleed post partum, so Thinx underwear would help them out a lot.
Thinx is period underwear – it's designed to absorb blood and replace single-use pads and tampons. They're a great addition to a hospital bag and perfect for the postpartum body.
The super hip hugger is probably the best bet for bleeding moms, as it has a very high absorbency rate. It holds 4 regular tampons worth. And they'll be a lot more comfortable in this than a huge pad!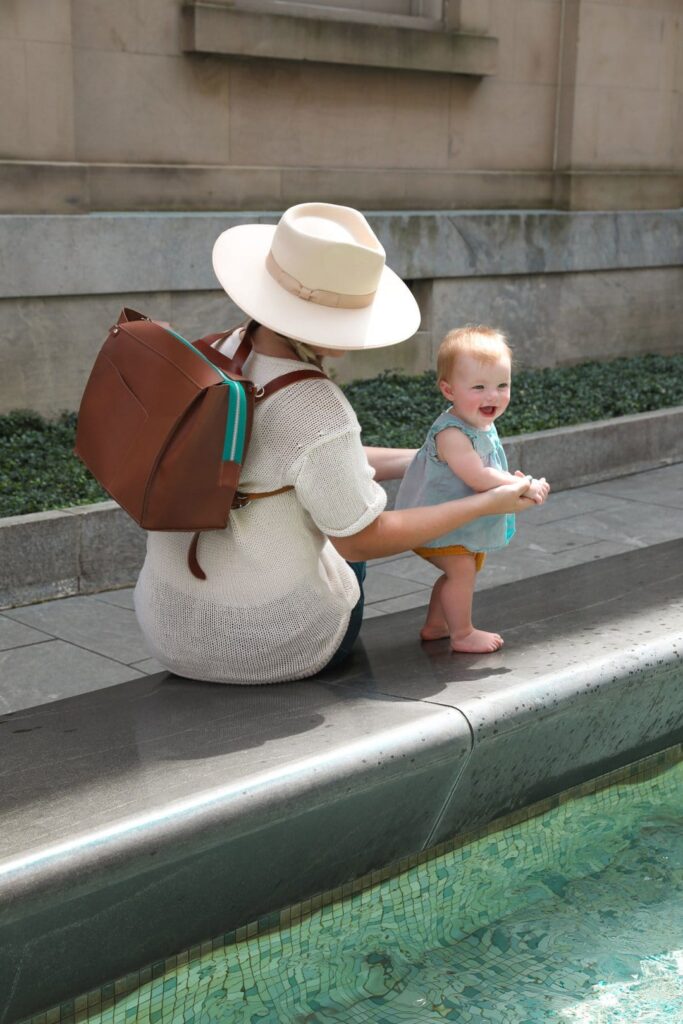 8. a sustainable diaper bag:
This ain't no ordinary diaper bag – it's sustainable fashion at its best.
My friend, Benita Robledo, a sustainable fashion blogger, designed this bag in partnership with Tesoro to create an incredibly sleek, stylish, timeless AND sustainable diaper bag that will grow with you and be fashionable long after baby becomes a teen.
There are eight interior pockets, including pockets for wipes, bottles and toys.
The inner lining and organizer, made from deadstock denim, can be zipped out for washing or when you no longer need it.
The outside is made from saddle grade leather which means it can withstand all sorts of abuse (important when you have kids) and it'll only look better with age.
The best part is that it has convertible straps so it can easily to go from over the shoulder to cross body to backpack in under 5 seconds. Yes, you can even do it while walking.
5% of all sales will be donated to 'Every Mother Counts', an organization dedicated to creating quality maternal and baby care for everyone.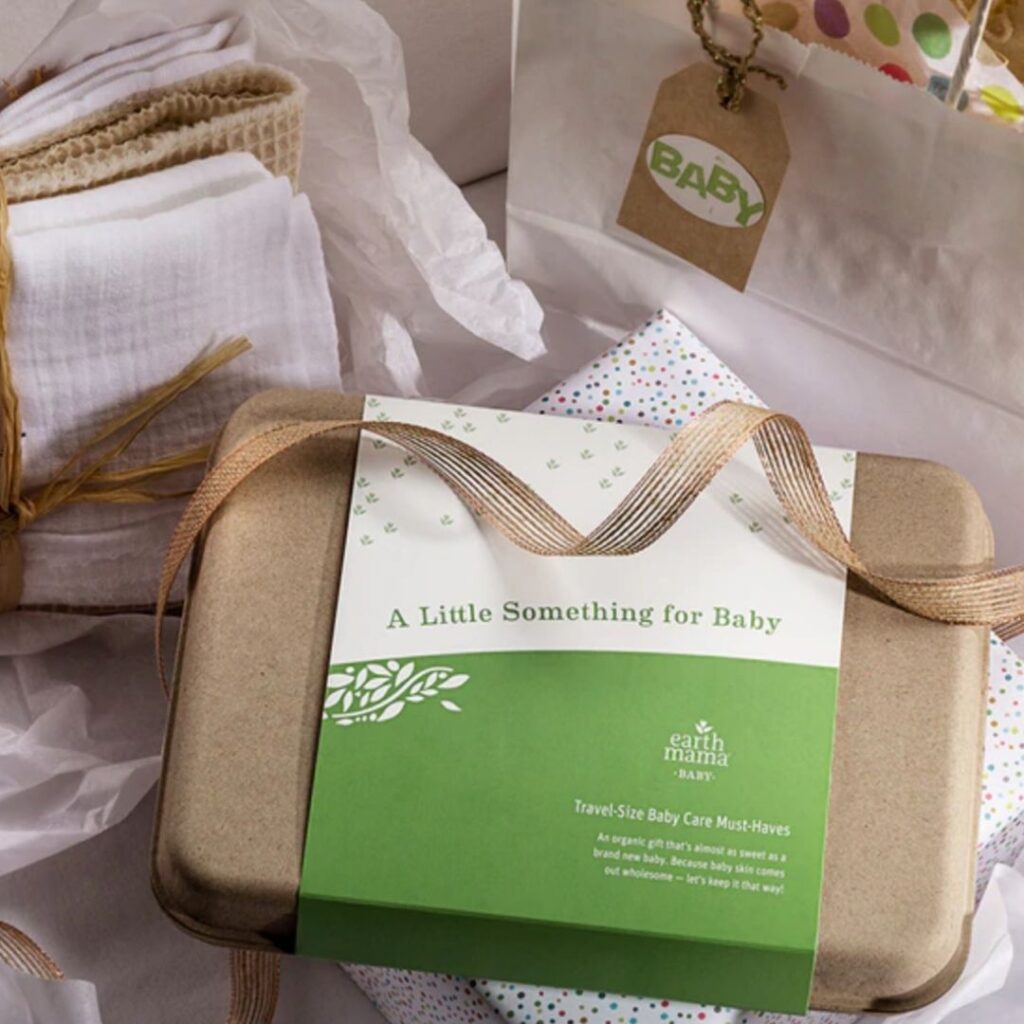 9. a little something for baby gift set:
A Little Something For Baby is a 5-piece travel-size set designed to nurture sensitive newborn skin.
Inside the cardboard box is organic diaper balm, sweet orange baby lotion, sweet orange castile baby wash, calendula baby oil, and organic baby face nose and cheek balm.
These all-natural goodies will help keep baby's skin soft, smooth and healthy, and can slip perfectly into your diaper bag.
We all know how sensitive baby skin is, so the ingredients in this kit are all organic, non-gmo and EWG verified.
The eco-packaging is also made from recycled cardboard with no bleach, dyes or glue (making it 100% recyclable and compostable).
10. baby wooden ring rattle:
Baby toys tend to be made from plastic – and babies tend to put those toys into their mouth. This baby wooden ring rattle by PlanToys is toxin-free and sustainably made – making it perfectly safe for curious babies.
It's made with a blend of rubberwood and PlanWood. Rubberwood is sustainably harvested from rubber trees that can no longer produce latex; PlanWood is an innovative zero waste material made from grinding and heating surplus rubberwood sawdust and wood chips.
The rattle is finished with E-Zero non-formaldehyde glue, and non-toxic water-based dyes. It also comes in easy to recycle packaging.
This rattle is ethically produced in Trang, Thailand where PlantToys donates volunteer hours and resources to benefit the local community.
EarthHero has a huge selection of eco-friendly toys that you should check out.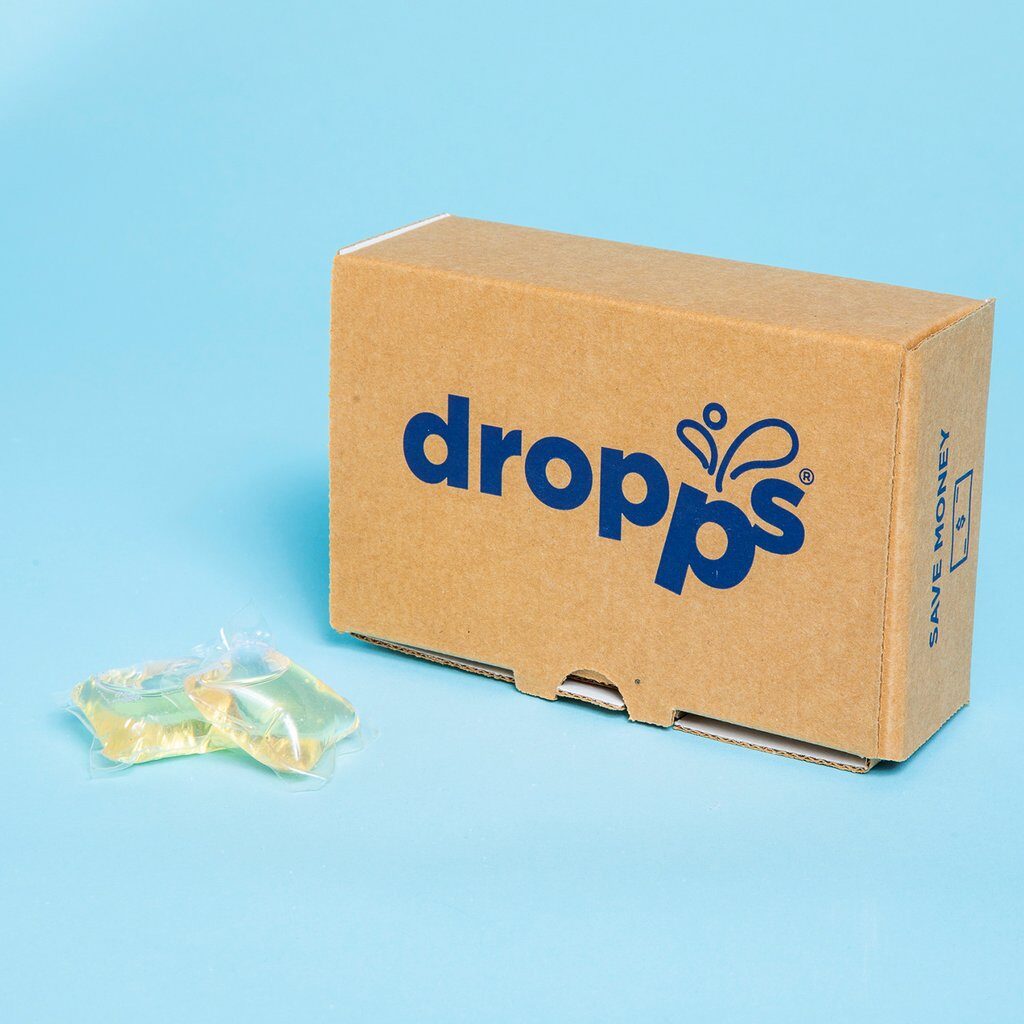 11. dropps laundry detergent
Baby skin is super delicate – that's why any new parent will appreciate Dropps unscented laundry detergent for baby. Specially formulated for sensitive skin, there's no scents, no dyes, no enzymes and no chlorine in this detergent.
This laundry detergent is plastic-free in multiple ways: The pod membrane is water soluble which completely dissolves in the washer, and the box it comes in is made from easy to recycle cardboard.
The ingredients are super clean too, and Dropps candidly list all their ingredients on their website.
One pod will take care of one load, so a whole box will last a while! With how messy kids can be, any new parents would be happy to receive this as a gift.
Use the code "KATHRYN" at checkout for 25% off your entire order (one use per customer).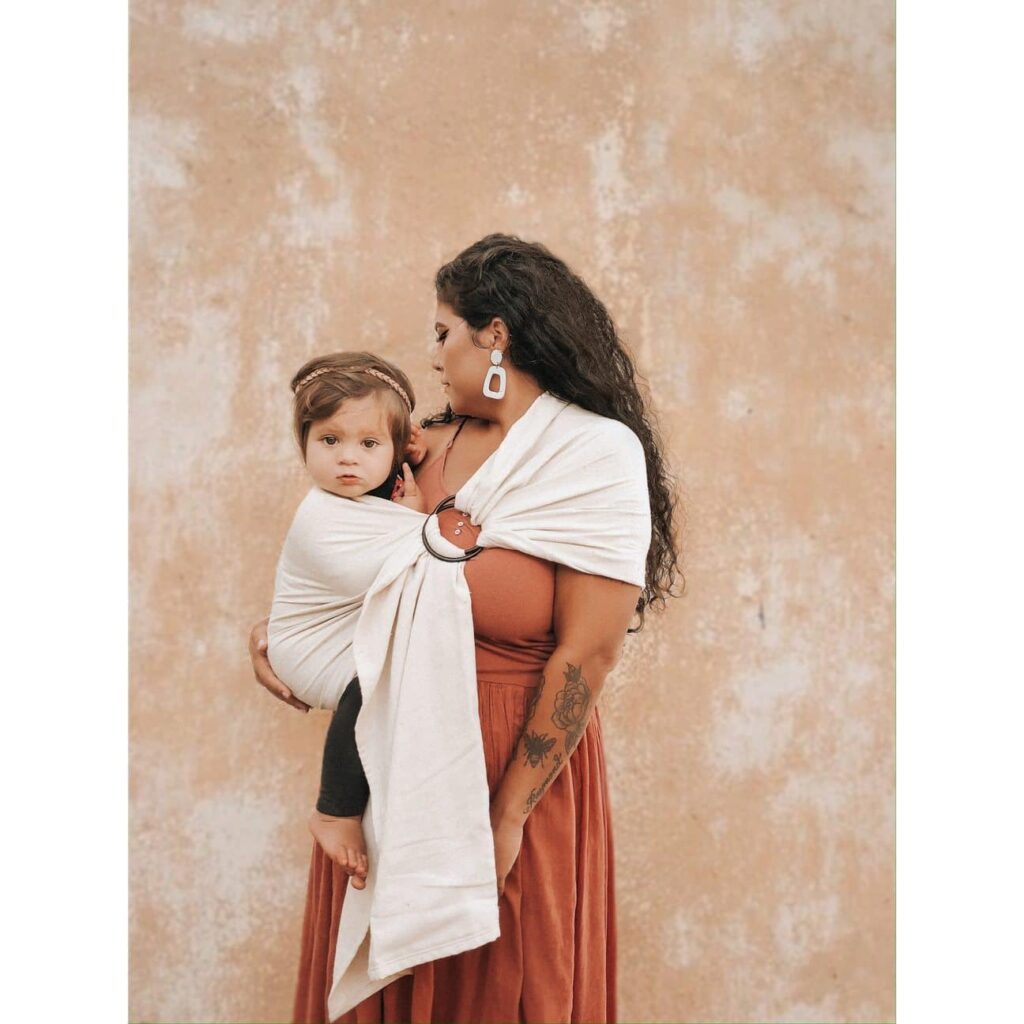 12.  ring sling baby carrier:
These handsewn ring sling baby carriers from Hope and Plum are super convenient and so adorable. Perfect for baby wearing!
They're made using natural textiles like linen, hemp, and cotton. These slings are designed to keep babies nice and close, all while freeing up hands (such a life saver for a new parent).
Hope and Plum is a woman-owned, small business. Each baby sling is ethically handmade in Minnesota too.
You can choose which size you want – short, medium or long. There's a helpful length guide on their website that will make choosing even easier.
---
The post 12 Eco-Friendly Gifts for Babies and New Parents appeared first on Going Zero Waste.