There's nothing quite like a pair of denim jeans that fit you just right. Denim is truly timeless and a classic staple in most of our wardrobes, but how eco-friendly or sustainable is this material?
Do you know how much water it takes to make just one pair of jeans? On average, it uses the same amount one person could drink over 7 years! (UN)⁠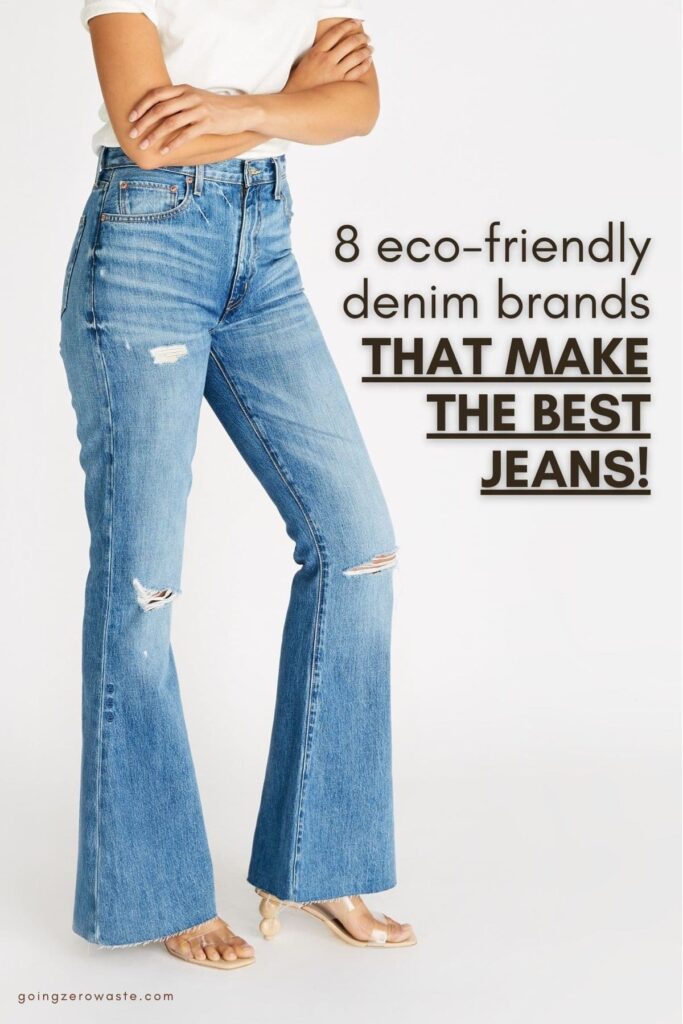 Most of the water we use we don't even see. It's called virtual water. It's water that's used in the production of our products like jeans and t-shirts. ⁠You can read more about water footprints in my post 10 Easy Ways to Save Wate.

The cotton used to make denim is often sprayed with tons of pesticides and synthetic dyes that can lead to water pollution. Cotton is also a very thirsty crop – it's estimated that producing 1kg of cotton requires more than 20,000 liters of water. That's only enough to make a t-shirt and a pair of jeans
Thankfully there are a lot of new technologies coming out like Tejidos Royo that's revolutionized the denim industry with DryIndigo® which uses NO WATER!
They've saved so much water that they donated the first million liters to Unicef in 2019. That's one million liters of water going to people who need it. How cool is that!? Now they are giving away another million liters to a social project and you have can your say in who it goes to! You can vote one their website One Million Liters.
Denim factories themselves also produce tons of waste and pollution. Not to mention workers aren't always paid living wages so let's re-think our denim and support better brands.
etica:
I'm a little bit curvy with a 14″ difference between my waist and hips.
It can be a bit tricky to find jeans that fit my body well, and Etica was awesome to work with on finding the perfect pair!
They use a mixture of fabrics like cotton, Tencel, and deadstock fabrics.
All of their mills have earned additional certifications including OEKO-TEX Standard 100, Better Cotton Initiative™, Cradle to Cradle™ and GOTS.
Etica uses an wash technique that reduces water consumption by 90%!
They also use 63% less energy and 70% fewer chemicals than industry standards.
Etica is based out of Mexico and exceeds Fair Labor standards, providing workers with living wages, health benefits, on-staff doctors and free meals.
They're members of 1% for the Planet donating proceeds from each purchase to environmental organizations. They also plant a tree for each purchase – so pretty great sustainability initiatives all around.
You can probably find their jeans in stock at a store near you so you can make sure you get the perfect fit!
MY TOP PICKS are the Finn Ankle Straight, The Nina Flare featured in the cover photos, and these lust worthy wide legged number which would be perfect for all-seasons.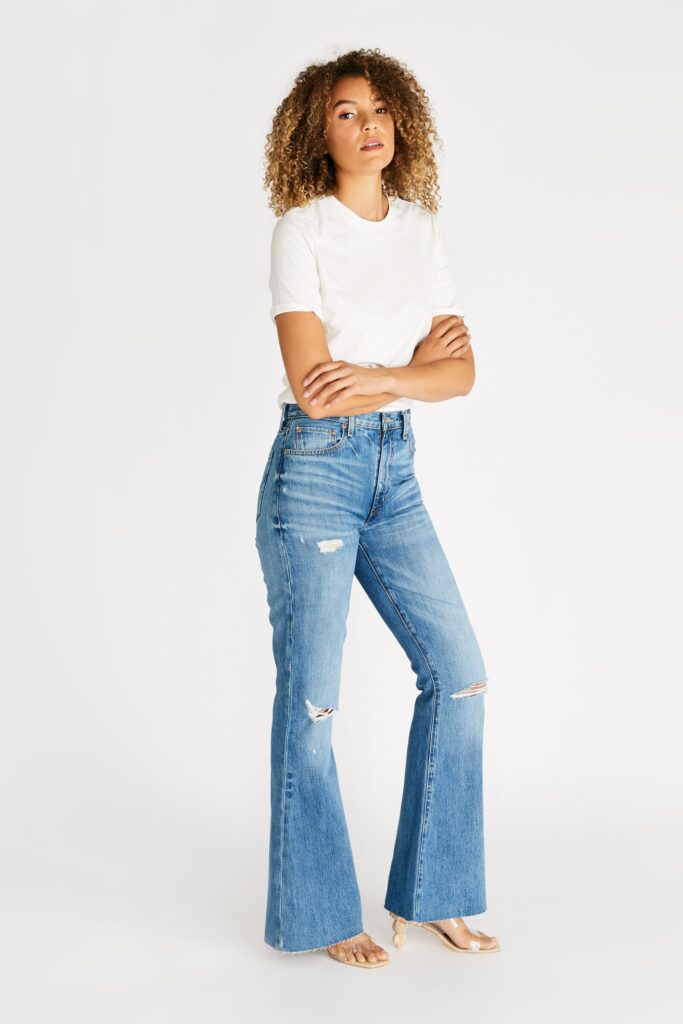 anara:
But, who said jeans had to be made out of cotton? ANARA makes hemp-based jeans for both men and women!
This Canadian based brand chooses hemp because it uses 50 percent less water to grow than cotton. Hemp also isn't sprayed with any pesticides or herbicides, unlike conventional cotton used to make traditional denim.
ANARA's jeans are unique in the sense there's one design for both men and women, but it's available in a wide array of sizes.
Both the women's and men's jeans are made from 54 percent hemp, 44.5 percent organic cotton and 1.5 percent spandex. Using less cotton helps save water and resources.
Thanks to hemp being anti-bacterial, ANARA jeans don't require washing as frequently. If you spill something on them, it's recommended you spot treat them instead of throwing them into the wash.
Any waste cuttings leftover are collected by local artists and repurposed into new items. Or, cuttings are collected by local gyms who use the scraps to stuff their boxing bags. Nothing goes to waste!
ANARA always pays its workers fair wages, treats them with respect and creates safe working conditions. Workers are paid by the hour, not by the piece, ensuring quality over quantity with all ANARA pieces.
MY TOP PICKS are the women's hemp denim jeans and the men's hemp denim jeans.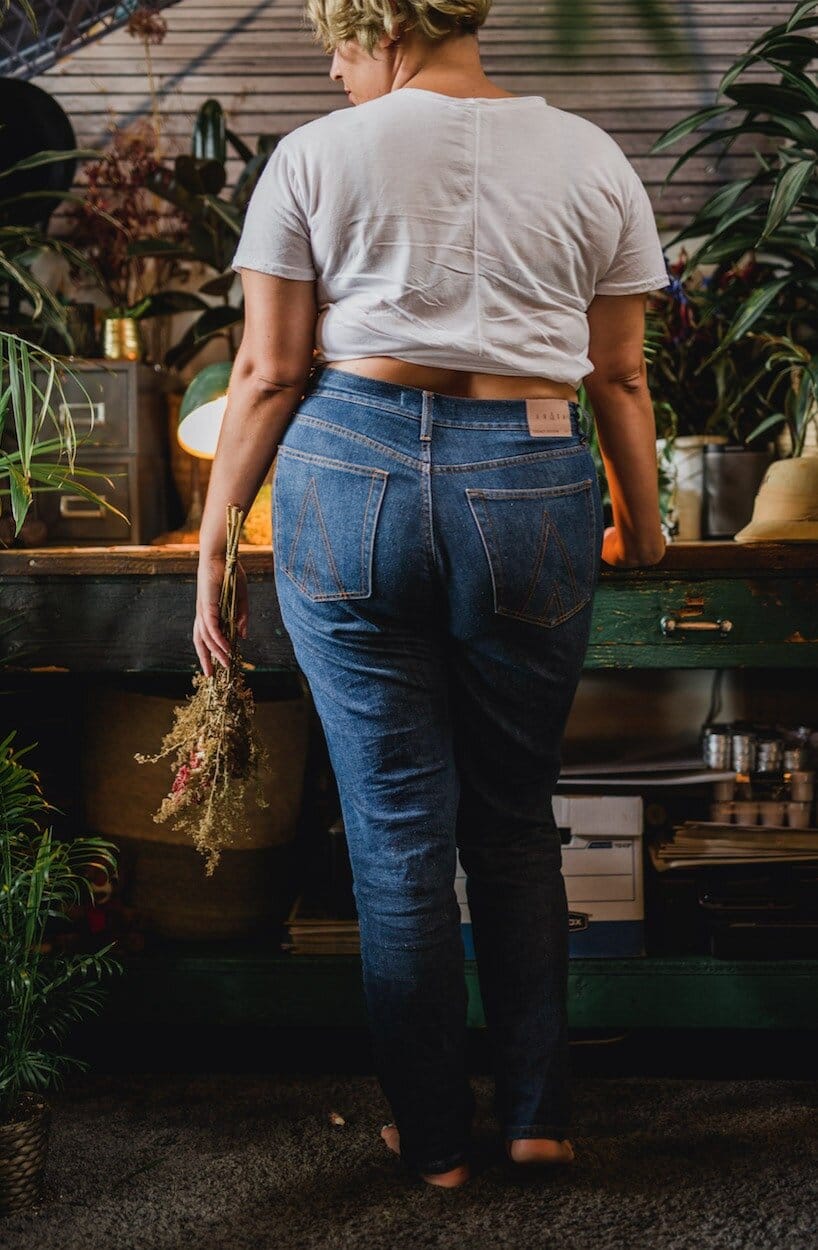 everlane:
Everlane's denim is crafted for both women and men, and it's mighty impressive. That's because the denim is made in Saitex, one of the cleanest denim factories around.
Saitex is a LEED-certified denim factory that recycles 98 percent of its water, utilizes renewable energy, and repurposes byproducts to create close to no waste.
Everlane makes all its denim in Saitex. It took Everlane 6 years to sell denim because they wanted to build this factory first.
During the washing process, standard denim manufacturers waste thousands of gallons of water. Saitex doesn't do this. Instead, the factory's unique five-step filtration system separates water from toxic contaminants, making it clean enough to drink.
Saitex also reduces its energy usage not only by relying on solar power but also by air-drying their jeans. Traditional driers guzzle electricity, so Saitex air dries jeans using air recycled from hot factory machinery.
Saitex also makes sure nothing goes to waste. All denim produces sludge as a byproduct, but Saitex extracts it and ships it to a nearby brick factory. There, it's made into bricks which are used to build affordable homes – so far Saitex has built ten.
It's safe to say you can feel good about the denim you purchase from Everlane, that's for sure! Not to mention you'll look good wearing it too.
MY TOP PICKS are these cheeky straight jeans and the high rise skinny jean.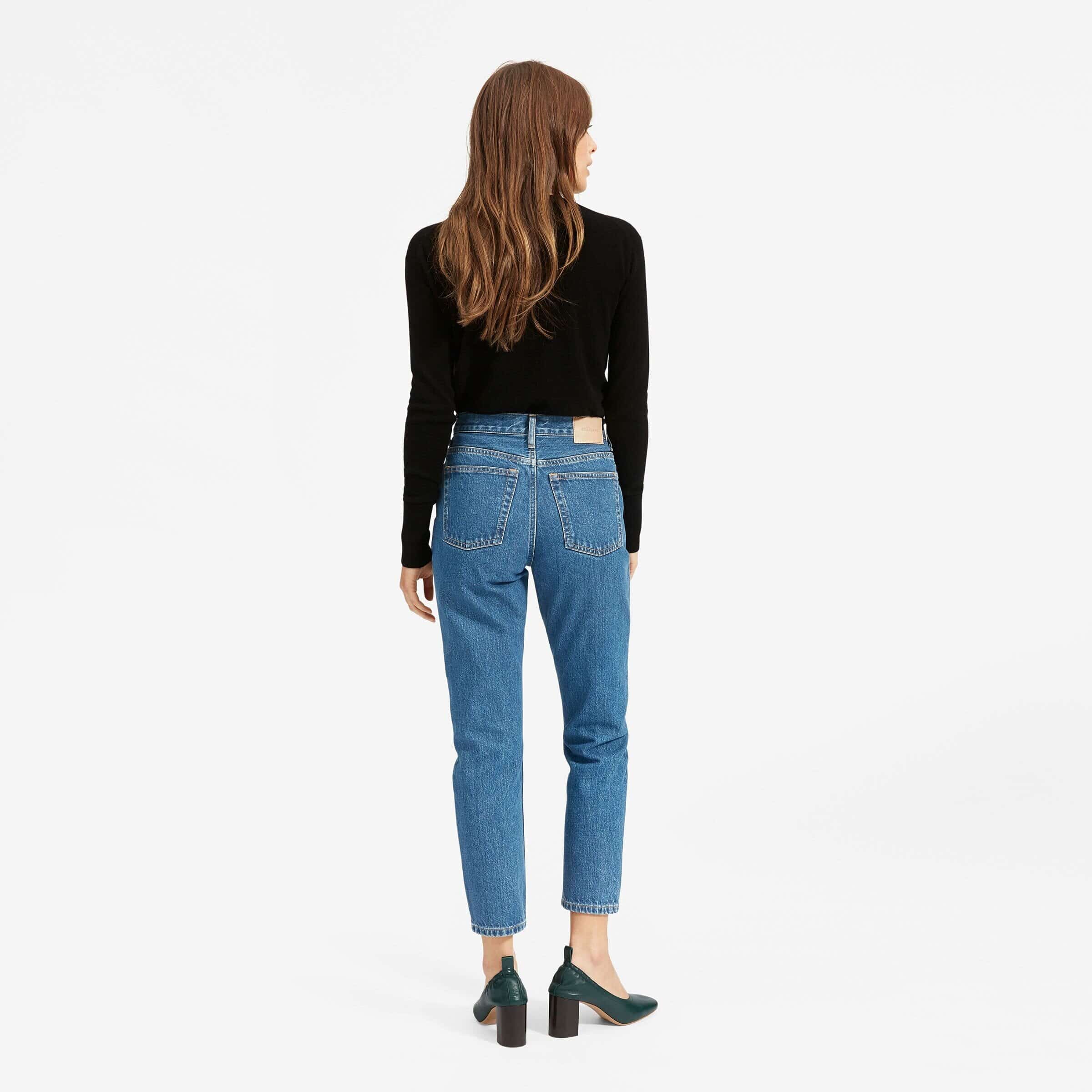 reformation:
Reformation is already my go-to place to shop, so the fact they have sustainable denim only makes me love them more. They create some amazing jeans specifically designed for women.
Reformation's sustainable denim line, Ref Jeans, is made from deadstock fabrics and don't contain toxic dyes. While the exact content of deadstock is unknown, Reformation didn't need to make any new fabric, so it saves well over 1000 gallons of water in the process.
Reformation also utilizes sustainable new materials to make up some of their jeans too, such as organically grown cotton and Tencel. Organic cotton is much better than conventional because it doesn't get sprayed with harmful pesticides.
Whenever possible, Reformation always opts to use biodegradable materials in their clothing. That includes their jeans as well.
I love how Reformation shows you exactly how much carbon dioxide, water and waste you save with each purchase too. When you hover over "sustainability" after clicking on an item, it informs you of how much you're saving.
If all that didn't convert you, there's also the fact Reformation jeans are super stylish and form fitting. Seriously, go check out their selections – you won't be disappointed.
MY TOP PICKS are these Stevie ultra high rise jeans and these Krista high and skinny jeans.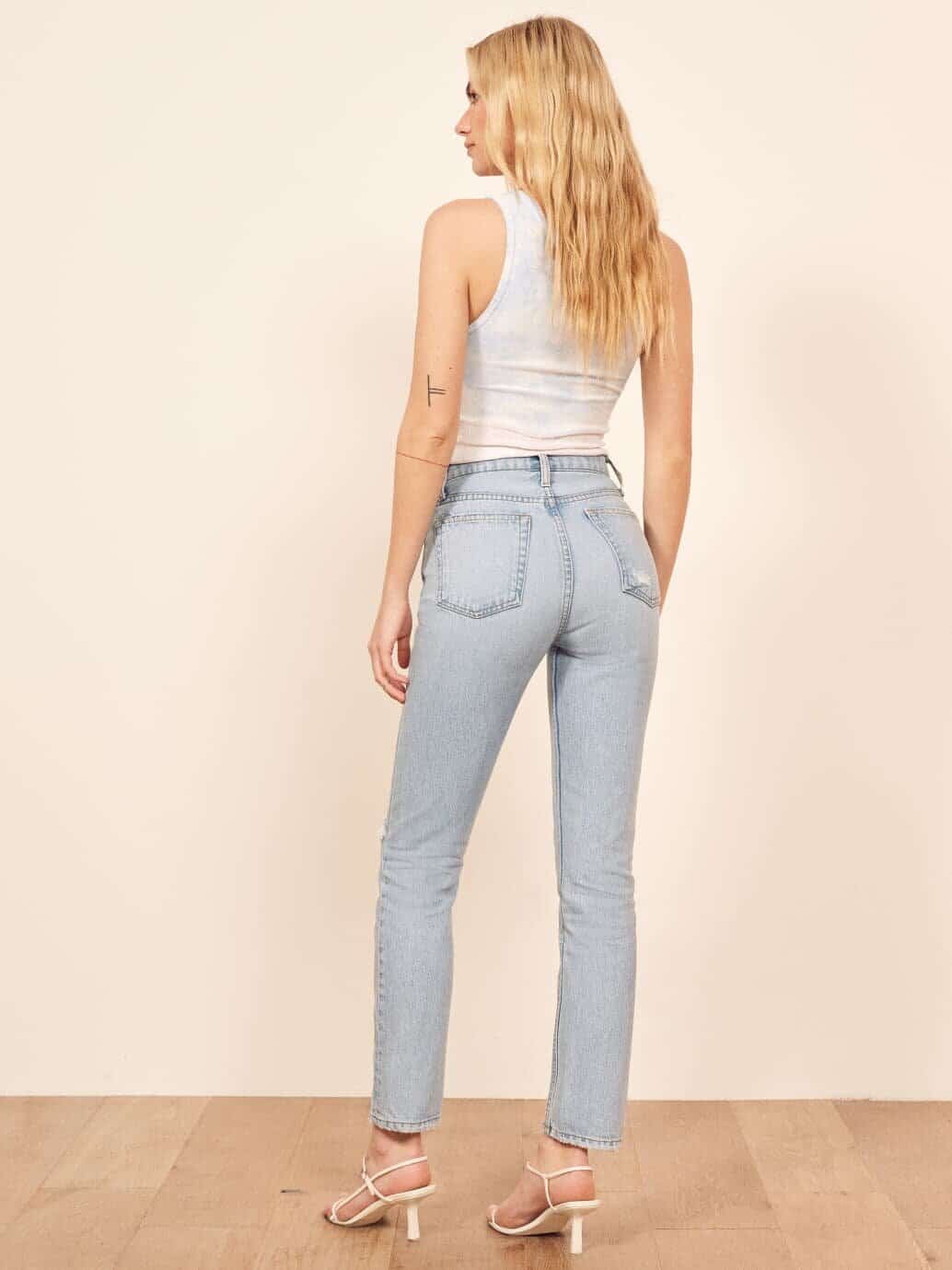 able:
If you're looking for jeans that radically support women and ethics, then you're looking for Able.
Able is dedicated to ending generational poverty and providing women with living wages.
While living in Ethiopia, founder Barrett Ward saw firsthand that extreme poverty forced young women to resort to prostitution just to support themselves and their families. This sad truth inspired Barrett Ward to launch Able as a means to support and empower women.
By providing women with living wages, Able ensures the women working for them are treated with respect and equality.
Able feels so strongly about this that they actively publish their wages for all to see.  Their goal? To see all fashion brands publish their wages too.
Able believes all fashion brands need to start being more accountable and transparent about the wages they pay their workers. Less than 2 percent of the women employed in the fashion industry are actually paid a living wage.
Publishing wages helps show consumers what's really going on and helps create demand for better wages. Nothing will change if no one knows what's happening, after all.
Able also makes sure to use biodegradable fabrics whenever possible in their denim, such as cotton and lyocell. Lyocell is a form of rayon which consists of cellulose fiber.
MY TOP PICKS are the Fatima denim skirt and the Margarit raw edge jacket.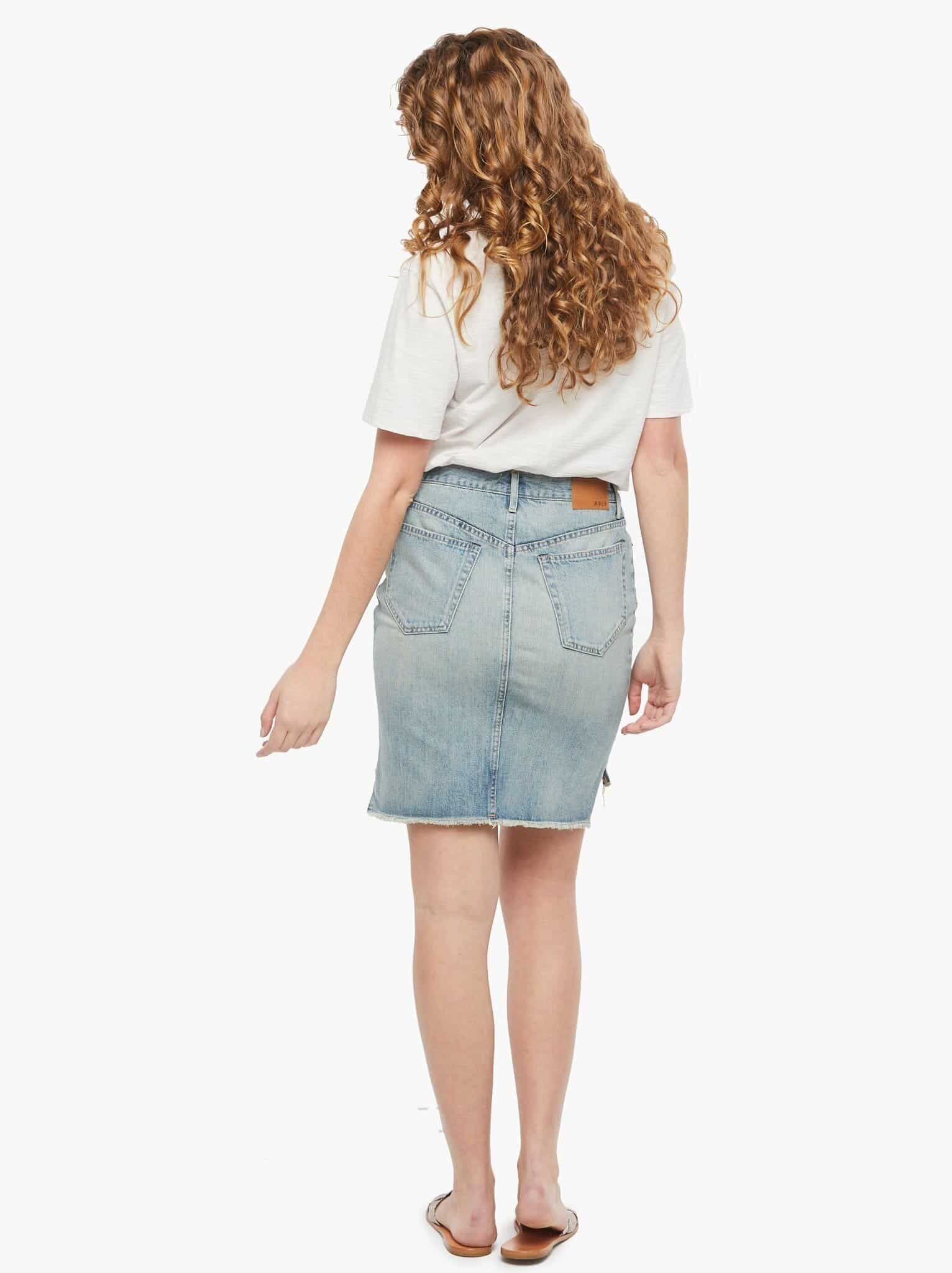 warp + weft:
Love supporting family-owned businesses? Warp + Weft is where it's at! They create cool jeans for men, women, and kids too.
They're a family-owned company that's been in the denim business for three decades. I think it's safe to say they know a thing or two about denim.
The best part? They have an eco-friendly mill where high quality, sustainable denim is created.
It takes less than 10 gallons of water to craft a pair of Warp + Weft jeans. Compare that to 1,500 gallons traditional jeans consume!
Warp + Weft recycles and treats 98 percent of the water they use, which is similar to what Everlane does.
They don't use chemical bleach but Dry Ozone technology instead. This bleaches the jeans without the need for any harmful chemicals.
Another cool thing I love about Warp + Weft is they make their denim from scratch. They use cotton and Lycra that come from the U.S. and bring them together through a cotton wrapping technique.
As far as dyes go, Warp + Weft uses liquid indigo from Dystar Germany whenever possible. This is the cleanest and most eco-friendly of all indigo dyes.
The factory the denim is made in utilizes a vast array of solar panels to help power the facility.
To make things even better, Warp + Weft are fully committed to ethical practices and always pay their workers fair wages. The workers are entitled to positive working conditions and reasonable hours.
Warp + Weft is also incredibly size-inclusive and offer sizes 00 to 24, which is something every denim brand should do. They even have a petite section!
MY TOP PICKS are these JFK petite skinny 27" coal coated jeans and these CDG vintage high rise straight 28" Marais.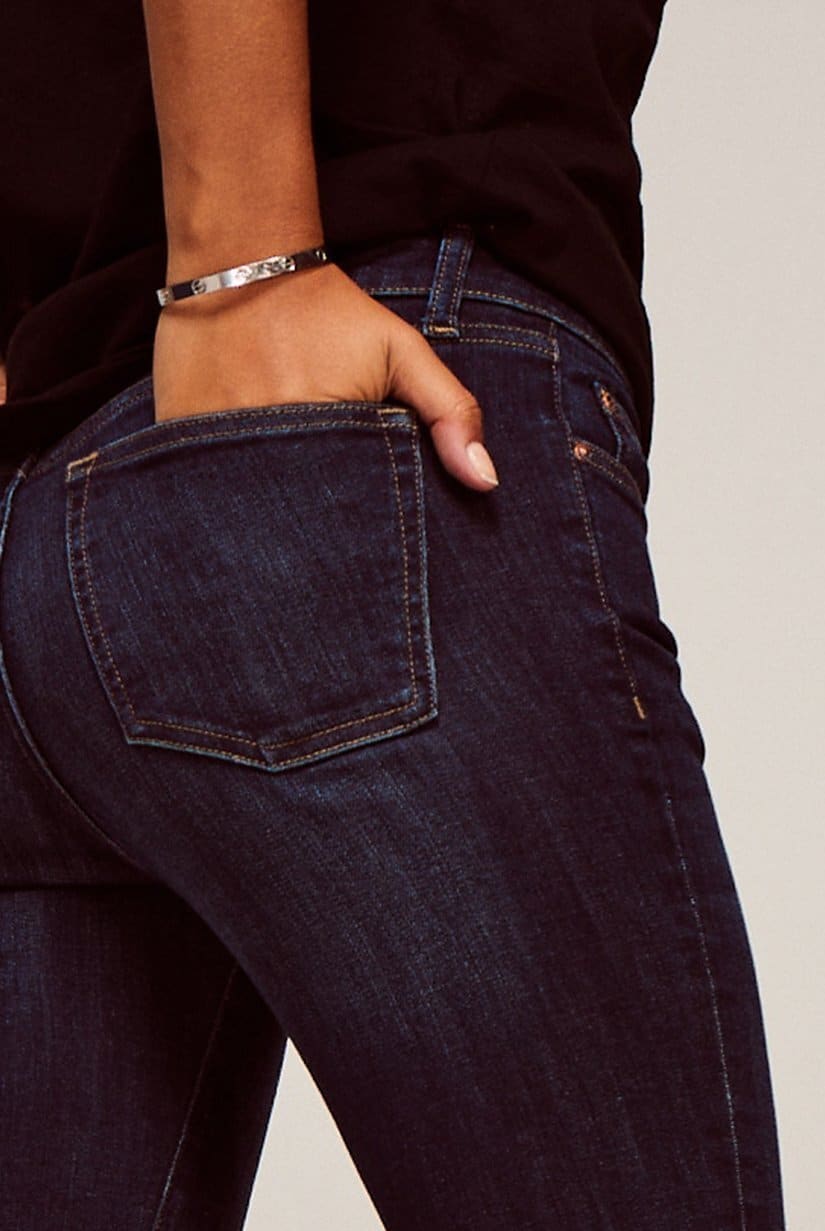 dl1961:
Looking for some stylish denim staples for the whole family? DL1961 has you covered: They sell denim for women, men and children alike.
Not only are there so many styles and sizes to choose from, but it's all ethically and consciously made.
I love how DL1961 uses biodegradable fibers whenever possible in their denim, such as cotton, modal, Tencel and lyocell. They make sure to source these ethically and sustainably too.
Their denim is made in a solar-powered factory and any wastewater is recycled through an on-site water recycling plant. Also, 98 percent of the water used is recycled and treated (I'm getting Everlane and Warp + Weft vibes, how about you?).
It only takes 8 gallons of water to make each pair of DL1961 jeans (instead of the usual 1,5000 gallons with conventional jeans).
DL1961 also doesn't need to waste water or bleach to bleach their jeans. Instead, they use a Jeanologia Ozone Eco G2 machine which takes air from the surrounding environment, transforms it into ozone, and results in a "bleached" effect for denim.
They use Dystar Indigo dye to keep things sustainable and create the perfect blues. This indigo blend minimizes water usage and has no harmful by-products.
DL1961 uses Environmental Impact Measurement (EIM) software by Jeanologia to monitor each piece of denim they make to track their water, energy and resource usage.
If that's not enough to make you love them, they even have a denim collection for pets! I'm not even joking right now – you can literally dress up your pup in a sustainably made denim jacket. What could be better than that?
MY TOP PICKS are these Bridget high rise bootcut 33" jeans and these farrow ankle high rise instasculpt skinny jeans.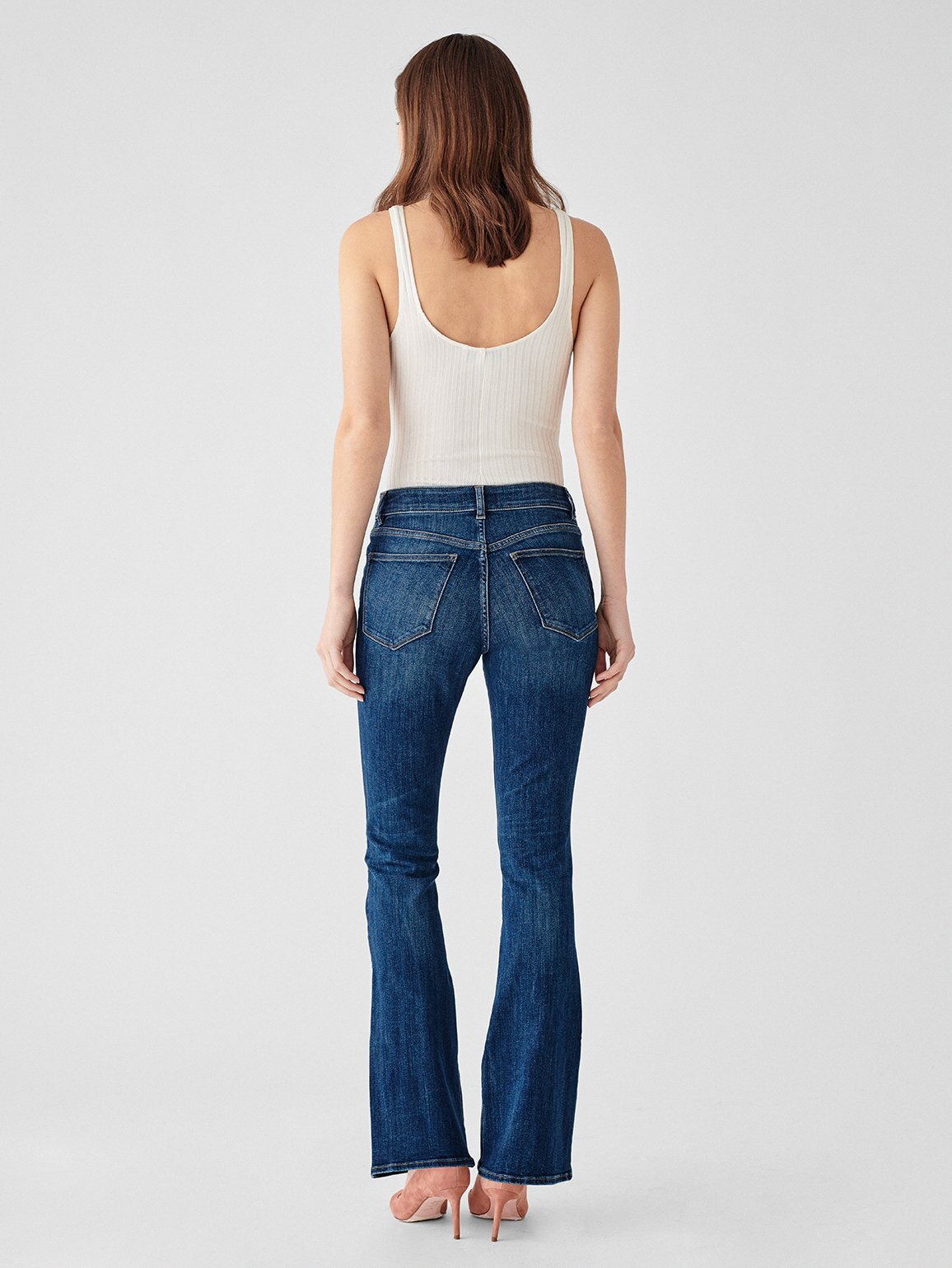 denim unspun:
Ever want to design your own jeans with the perfect custom fit? Denim Unspun will let you: They offer both women and men the chance to customize their jeans.
The goal of Denim Unspun is to build you a pair of jeans that has the least amount of impact, but has the largest lifespan. They want you to be able to wear your jeans an infinite amount of times.
First, all you have to choose your style, fabrics, color, and rise preferences. I made a custom pair last year and got to choose a material made from recycled denim!
Then, you take a 3D body scan at one of their stores or scanning stations. This will literally help create the perfect jeans that are designed to fit just you and only you.
It will take about 2 to 3 weeks for your perfect jeans to arrive at your door, but it's worth it. You'll never have a more fitting pair of jeans than this!
Denim Unspun is on a mission to reduce global carbon emissions by 1 percent. They're doing this by being as zero waste as they can possibly be through reducing and reusing to the best of their ability.
Essentially, they utilize localized production, low impact fabrics and on-demand manufacturing. However, they're ultimately creating a closed-loop supply chain where jeans can be disassembled and re-assembled again.
Denim Unspun makes everything by demand, so they never have any inventory. This is a good thing, considering garments that aren't sold get thrown away all the time.
They're also working on a weaving machine that will create woven garments to shape without creating cutting waste. On average, garment manufacturing for pants creates approximately 10 percent cutting waste. Denim Unspun is working to eliminate this!
Denim Unspun also goes to great lengths to ensure their packaging is sustainable too.
When your jeans are delivered from their san francisco location, they're packed in 100 percent compostable material. That's because there's great access to compostable disposal in this location.
However, in Hong Kong, that's not the case, so they create a system where bags are able to be reused. If the bags cannot be reused, they encourage people to send the packaging back to them (shipping label included).
Even their label stickers are 100 percent recycled and the 'dust bag' they wrap jeans in is up-cycled from industry roll-ends. Super innovative, right?
MY TOP PICKS are these women's offline modeled below and these women's satellite shorts.
What's your favorite denim brand?
The post 8 Sustainable Denim Brands That Make the Best Jeans appeared first on Going Zero Waste.