This vegetarian chili is based off My dad's famous chili recipe. Seriously, he makes the best chili!
Now, I know everyone thinks their dad makes the best chili, but I'm just going to unequivocally say that my dad's is definitely up there and you know why….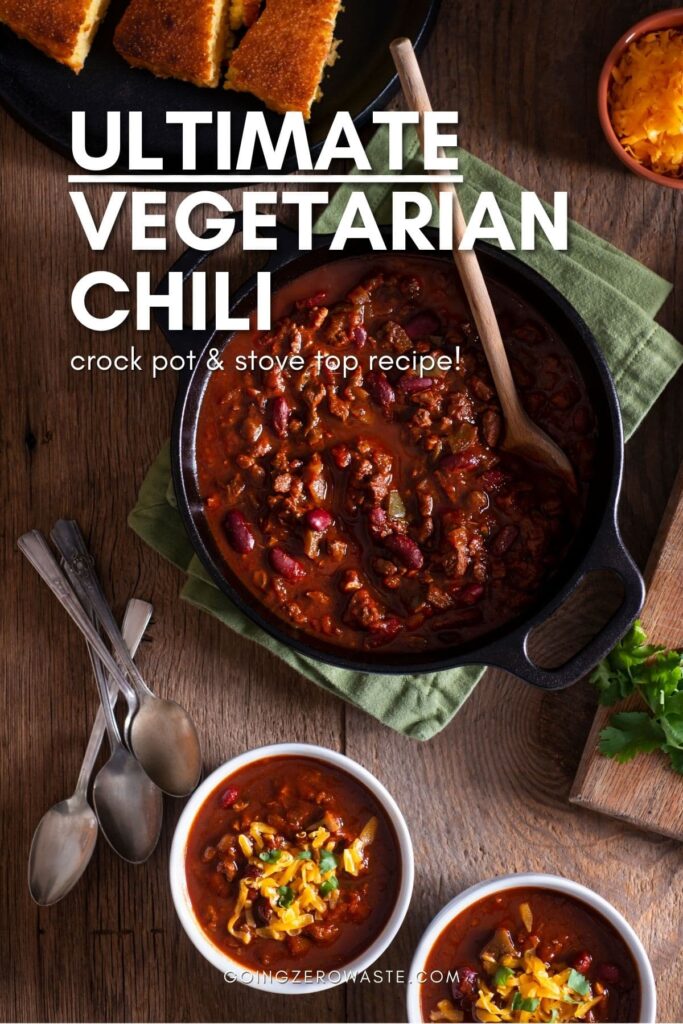 I don't even like chili. I have nightmares of my grandma making me eat an entire bowl of canned chili, and I could not stand the stuff. This happened more than once and scarred all future chili interactions.

I was never a rebellious child, but if it were chili night at church – I was probably going to be sick. Chili night at home, definitely hanging out with my friends. Chili day at the caf? PB&J from home.
the vegetarian chili that changed everything:
I avoided all chili until a few years ago. My dad invited me over to his place for my birthday dinner. My dad's a pretty good cook, and it's always nice to see him, so I met up with him, and what was he serving?? Chili.
ON MY BIRTHDAY.
Didn't he know how passionately I felt about disliking chili?? I mentally raced through all of my previous chili interactions and braced myself to HATE the stuff, but then magic happened.
The sky parted, the heavens shone down their glory – THIS WAS CHILI.
It was perfect. Tangy, acidic, toothsome, and just right amount spicy that covers your whole tongue. I ate the whole bowl and asked for seconds.
I even brought a tupperware container home of the stuff and begged him to send me his recipe.
He did, and now I'm going to share the best vegetarian chili recipe to exist.
Now, this recipe wasn't a vegetarian recipe, but it's been adapted and the flavors are still bangin'. Plus, this hearty recipe is going to keep you full and satisfied for hours.
If you tend to eat vegetarian or vegan food and feel hungry about an hour after you eat – this recipe is going to keep you satiated all night long. My husband who's not into 'vegetarian food' RAVES about this recipe so you know it's a winner.
All right, let's get into it.
the spice:
This dish is FULL of spice and spices, and the key to this chili recipe is keeping them balanced.
We love spicy food in my family. I grew up basically drinking buffalo sauce. If you like spicy food too, you know that different peppers and spice hit different parts of your mouth.
Sometimes you feel the spice on your lips, the tip of your tongue or the back of your throat after you swallow.
With this chili my dad's aim was to create a good level of heat that you feel evenly throughout your whole mouth making it a super pleasant eating experience.
But, a lot of peppers naturally vary in spice, and Jalapeños are a great example of this. One way to test for appropriate spice level in your vegetarian chili is to cut the pepper and place it on your lips. You can easily gage how hot the pepper is to know if you should leave the seeds in or take them out.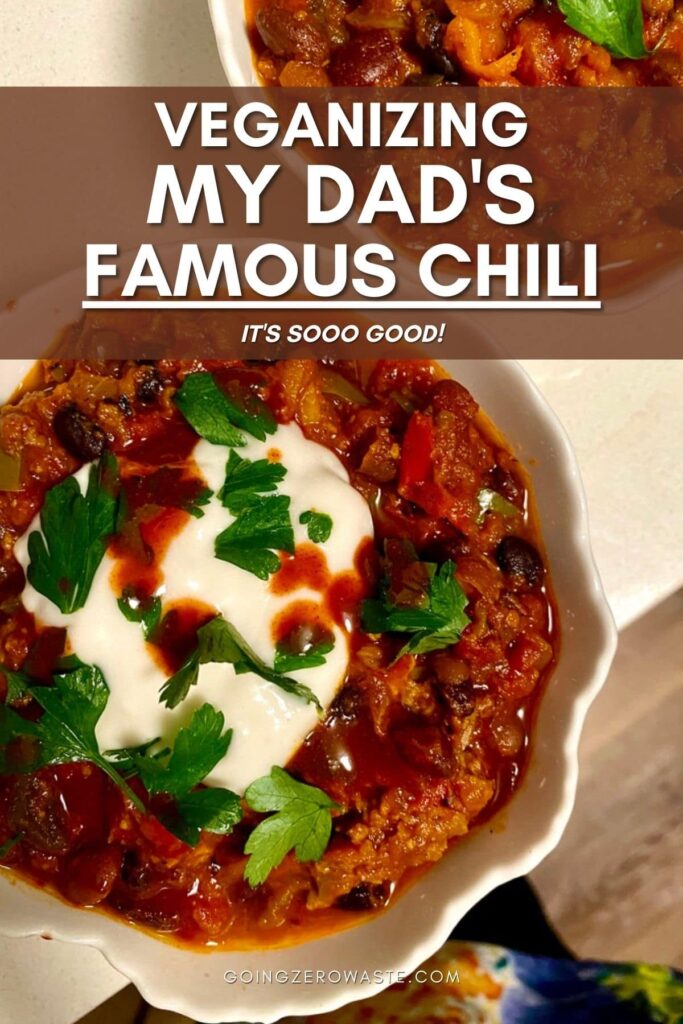 to taste:
We're big intuitive cookers in my family, and this vegetarian chili is no different.
We're always tasting to make sure that each component is balanced. It's vital to taste your food as you go!
So, please remember to taste your food. Both my dad and I do this to taste. This recipe is cannon, but we tend to riff off of it each time, and it always turns out delicious.
For instance, last time, I didn't have any chipotle peppers in adobo sauce, but I did have some dried chipotle peppers and used those instead. So taste your food, use your best judgment, and your vegetarian chili will be delicious!
classic vegetarian chili recipe:
This recipe makes 8-10 servings. It's perfect for a crowd, but it also freezes incredibly well! Be sure to check out my blog post how to freeze in mason jars for more information.
If you want to add a meat substitute like the impossible ground beef, be sure to check out my notes section below for best practices. Now, I've included the instructions for making this vegetarian chili in the crockpot and on the stove top. I've done it both ways and it's turned out delicious every time!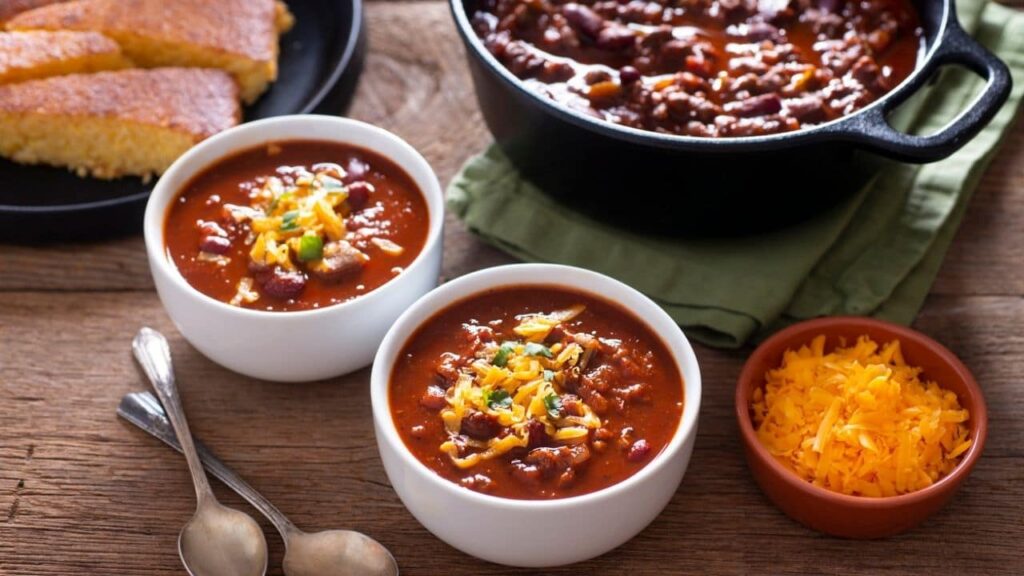 ingredients:
(2) 14 oz cans of tomatoes. I prefer fire roasted if you can get them with chilis.

1 small can tomato paste

2 Chipotle peppers in Adobo sauce

1-2 TBSP Adobo sauce

Heaping cup of fresh pico de gallo

1 small can green hatch chilis

3-5 fresh mild chilis – 1-2 Anaheim, 1 Poblano, 1-2 Jalapeños, whatever is fresh and isn't too hot.  (A lot of chilis go into this and begin to compound the heat level).

2-3 Rehydrated dried ancho chilis

1 large onion – diced

1 each yellow, orange or red, and green bell pepper – diced

6 cups of cooked beans. I like kidney, navy, pinto and black. (Approx. 4 cans)

1 12 oz lager beer

2 TBSP olive oil

1 TBSP chili power 

1 TBSP ancho chili powder

2 tsp ground cumin

2 tsp garlic powder

2 TBSP Smoked Paprika

1 TBSP Montreal Steak Seasoning

Salt and Pepper to taste
crockpot instructions:
Heat 1 TBSP olive oil in a skillet, preferably cast iron until almost smoking.

Dice and sauté the onion in 1 TBSP olive oil until translucent and begins to caramelize.

Combine everything in a slow cooker or crock pot.  Cook on low for a minimum of 4 hours.  Personally, I prefer to prepare chili a day before so all the spices really have time to blend together.

Salt and pepper to taste.

Taste the chili throughout the cooking time. Don't be afraid to add cumin, chili powder, salt, and garlic.  
stovetop instructions:
Heat 1 TBSP olive oil in a large pot like a dutch oven

Dice and sauté the onion in 1 TBSP olive oil until translucent and begins to caramelize.

Add in all your diced peppers and sauté until they start to soften.

Sprinkle in all your spices and wait until fragrant.

Pour in all of your canned products and bring it to a simmer.

Once simmering, add in the beer.

Cover your pot and let it slowly simmer for an hour.
NOTES:
Taste the chili throughout the cooking time. Don't be afraid to add cumin, chili powder, salt, and garlic – be generous with your seasonings!   
If you want to add a meat substitute like the impossible ground beef cook it separately and add it at the very end. It won't hold up well being simmered or cooked on low for a few hours.
top it up!
A few of my favorite toppings include tortilla chips, diced avocado, fresh cilantro, miyoko's cheddar or pepper jack, and even forager's cashew yogurt as sour cream. I also like to add extra Tapatio, but that's just me.
There are so many different toppings you can use, and it's going to be absolutely delicious either way.
I'd love to know if you make this recipe and enjoy it! Please tag me on Instagram. I'd love to see it.
The post Ultimate Vegetarian Chili appeared first on Going Zero Waste.