Did you catch my last post how to master second hand shopping? Be sure to check it out because #4 is extra important when it comes to shopping with online thrift stores.
I know a lot of people lack access to quality thrift stores or the time to search through hundreds of racks searching for that one hidden gem. This is where online thrift stores can really come in handy.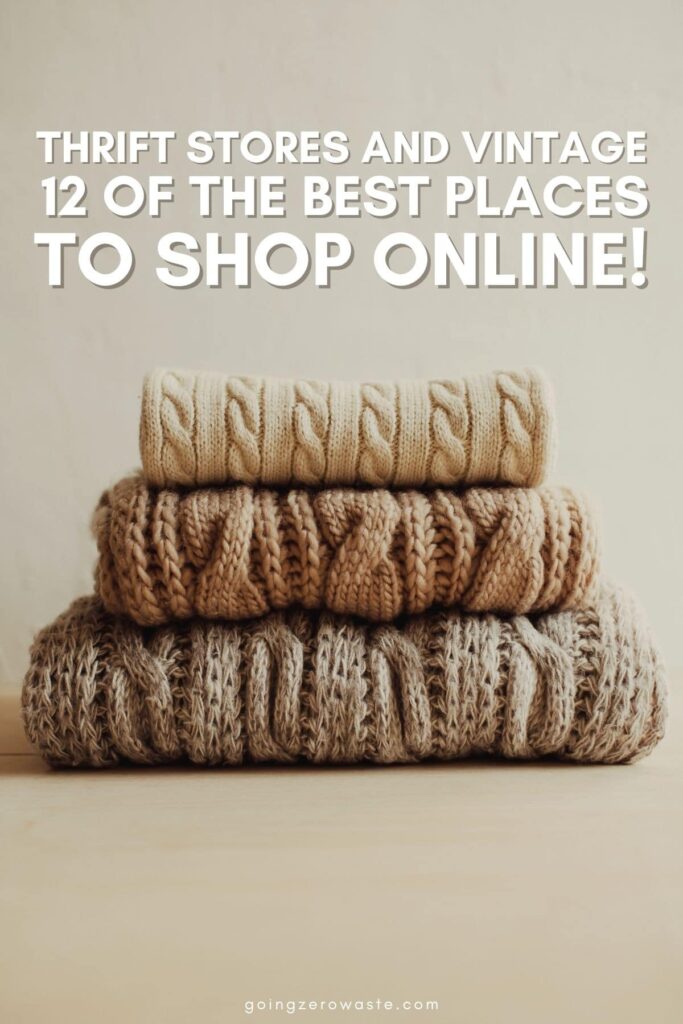 Before I go shopping, I always like to have a list of the pieces I'm looking for. As someone who previously had a shopping problem, this prevents me from over buying and really keeps me on task.

Check out my post Why I Wait 30 Days Before Buying Anything for more information and why you might want to add a waiting practice to your shopping schedule.
online thrift stores:
It's not secret that secondhand shopping is one of the best ways to reduce your impact and avoid fast fashion.
One of the major advantages of shopping online is that you can search for the really, really specific thing you're looking for. Many online thrift stores will let you filter your search by color, size, brand, and price point to find something matching your exact criteria. 
And, if you're looking to sell some of your clothes be sure to check out my blog post were I've rounded up the 7 BEST places to resell your clothes online like Flyp and ThredUp. Speaking of which, is the first stop on our list of best places of best online thrift stores!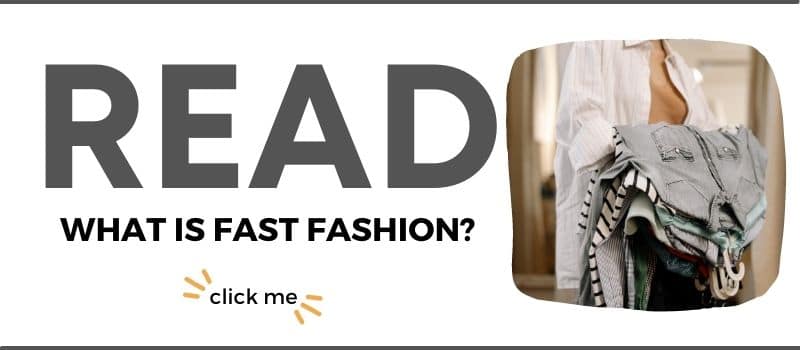 1. thredup:
I'm a huge fan of ThredUp*. I have probably spent a small fortune on all of the clothes I've bought through them. 
Their search function works very well, and all of the clothes I've ordered have been very high quality. 
Fabric content is really important to me, and they do a great job of listing those details so I can shop for natural fibers.
Natural fibers are far more breathable, stretch longer between washes, and I don't have to worry about releasing microplastics into our waterways when washing my clothes.
I also love that I can return items that don't fit! But, I still try to be really careful with what I purchase because I don't want to be contributing to a lot of extra carbon miles for returning. 
ThredUp ships in cardbord and tissue paper keeping things totally plastic free! 
I can always find exactly what I'm looking for on their site. If you haven't used ThredUp before you can get $10 off your first purchase!*
2. swap:
I just placed my first order from Swap.com* and I'm eagerly awaiting the box to report on the quality of what I receive. The deals are so, so good! Almost too good…. like "What's the catch?" good. 
Some of the exact same items available on ThredUp are so much cheaper on Swap.com – I wonder if it's just because they're a less popular online thrift store?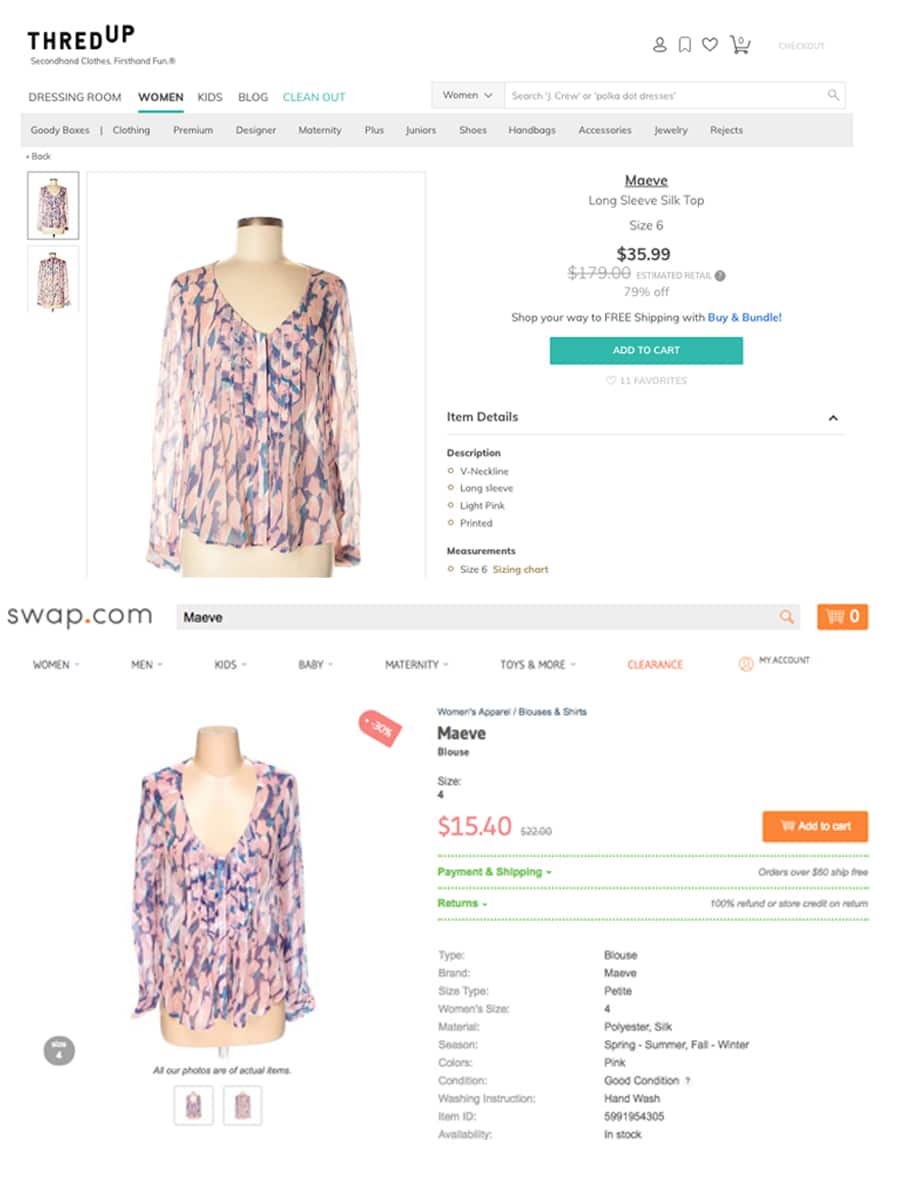 I was almost scared to share my newest discovery because I wanted to keep it all for myself!! The deals are sooooo good. 
Swap.com isn't the best at listing out their fiber content, so it doesn't hurt to double check online. In the above graphic you can see that they list polyester/silk where thredup just lists silk.
With a quick double check on google, I can see that the garment is 100% silk. I will definitely report back how the quality is. Get 40% off your first order!*
EDIT:  I received my first box from swap.com and the quality is amazing!! Unfortunately, everything in the box was wrapped individually in plastic.
I will be sending the company an email because that was a real bummer. 
You can only return items for store credit so I decided to keep what I ordered, and I filmed a fall haul on YouTube with the items I got. 
I spent $150 on the box for 12 really amazing pieces made out of silk, cotton, tencel, and other natural fibers. I'm absolutely thrilled with the quality of these pieces, and hope they'll update their packaging soon.
3. poshmark:
Poshmark is a great app, but you can't return what you buy so you have to be really careful. 
I think a lot of the items on Poshmark are overpriced by about 20%, but it's great if you know exactly what you're looking for.
My favorite pair of sandals in the whole world were worn to death.
They were completely beyond repair, and even thought I had bought them three years ago I was able to snap up a BRAND NEW pair!
On the whole, I still prefer the safety of being able to return what I buy.
So, if you're going shopping make sure that you ask lots of questions, know your measurements, and don't forget ask the seller for plastic free packaging!
4. ebay:
I have purchased quite a few pieces off of eBay as well as homewares. My mom was super into eBay when the site first launched, and she used to buy and sell all the time. She even taught me a few tips and tricks. 
Whenever, I'm looking for something specific, I turn to eBay.  Some sellers allow you to return, and others don't. So, always double check if you're not sure what you're buying will fit. 
When you purchase on eBay make sure that you leave a note to the seller asking that the items are shipped without any plastic, and make sure that you check the secondhand box on the left hand side to ensure that you're getting a preloved item.  
RELATED POST: Is Online Shopping Eco-Friendly?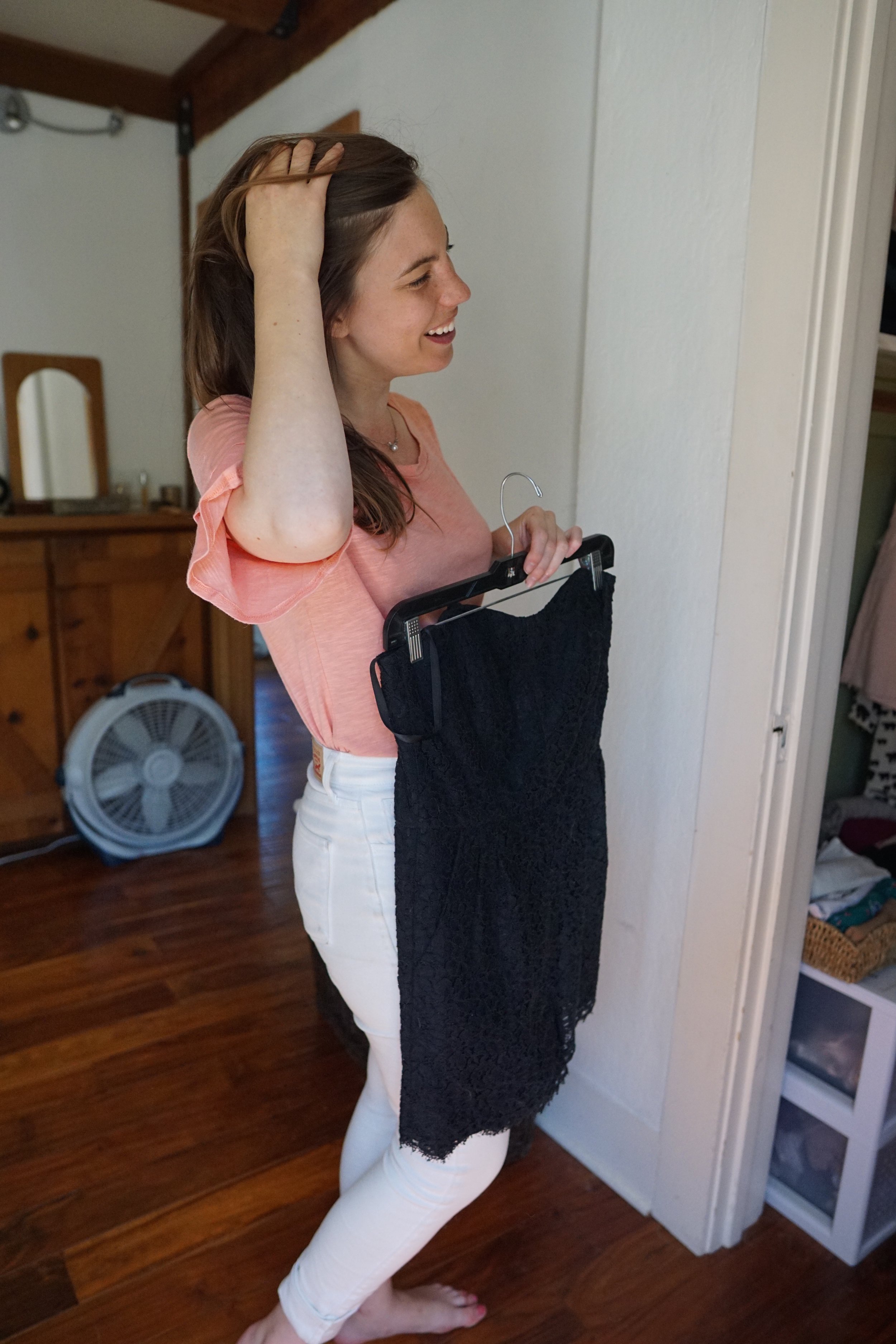 vestaire collective:
Last year for mother's day, I bought my mom a really nice scarf from Vestaire Collective and the process couldn't have been easier.
Vestaire Collective skews more towards high-end and luxury designers. Similar to Poshmark or Depop, Vestaire simply acts as the connector pairing individual sellers to buyers.
The big difference is that Vestaire authenticates their sellers items. Before the scarf was sent to my mom, it first went through authentication to ensure it wasn't a fake item. This is a great addition of security if you're interested in buying luxury items.
etsy:
Etsy is full of vintage and secondhand treasures from all over the world. I've ordered a few vintage pieces off esty and have been incredibly happy with my purchases.
Sellers are typically really responsive and good about listing materials and sizing. Some sellers offer returns, but not many. Just be sure to double check before purchasing.
Etsy is also the first major online shopping destination to offset 100% of carbon emissions from shipping so every time you purchase an item on Etsy, they balance out the carbon emissions by creating positive environmental impact.
If you want to reduce packaging waste, send a DM to the seller and ask for your package to be plastic free or for them to reuse a shipping envelope!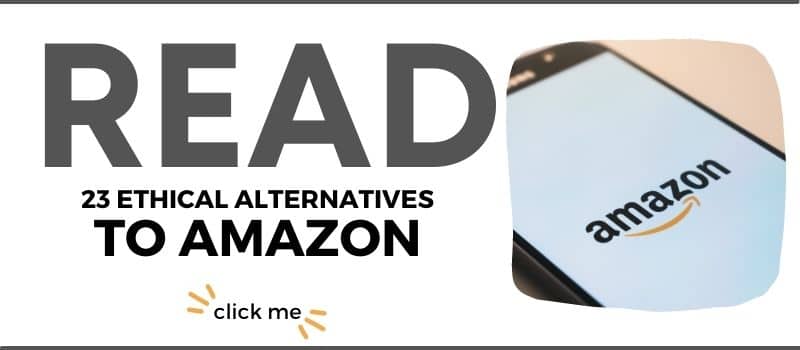 six more: 
I have not ordered from the other five sites so I can't attest to their quality or how they work, but I have been a serial browser on Real Real and Tradesy.
7. Tradesy
8. Grailed
9. Vinted
10. Depop
11. ReBag
12. The Real Real
Do you have a favorite online thrift store that you love to frequent? 
This post contains affiliate linking. It's denoted with an asterisk. This means if you choose to purchase one of these items I will make a slight commission for referring you. You can read more on my disclosure page.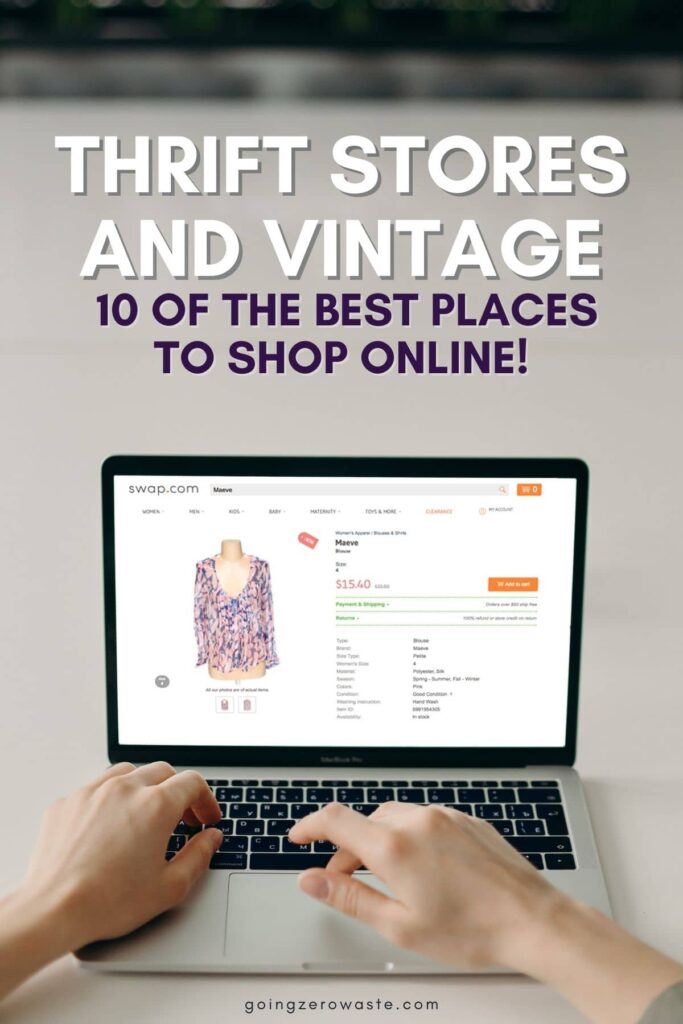 The post Thrift Stores and Vintage: 12 of the BEST Secondhand Shops Online appeared first on Going Zero Waste.