It's no secret that online shipping is booming, and a lot of that money is flowing directly to Amazon. So, I wanted to round up a few ethical and sustainable retailers where you can shop online that isn't Amazon.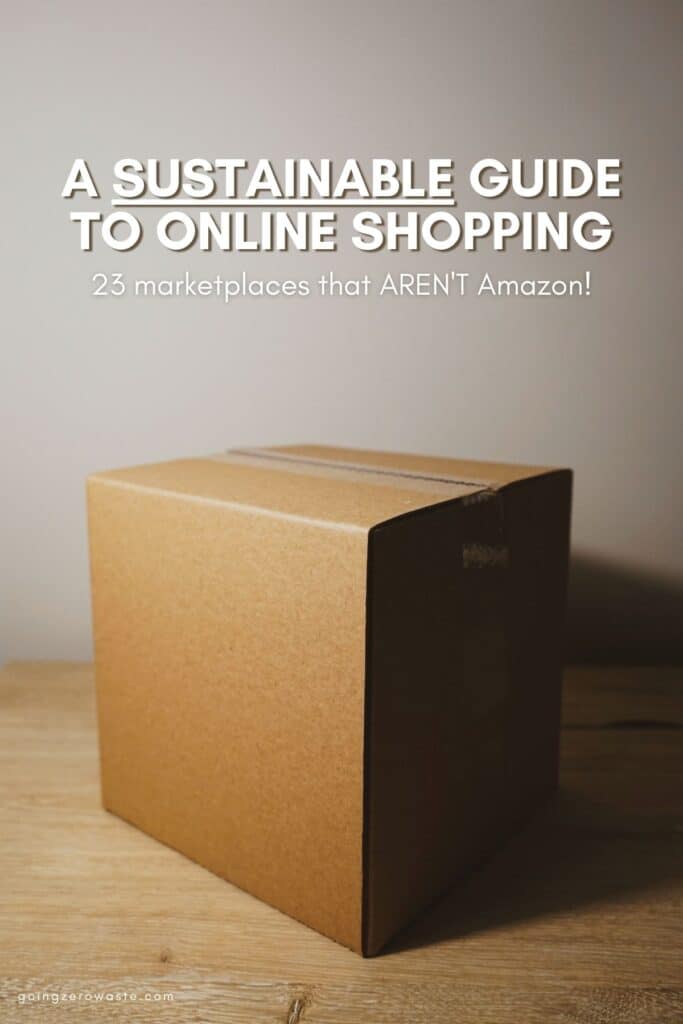 There are so many eco-friendly e-commerce marketplaces similar to Amazon so you can shop your values like supporting small businesses, independent makers and sustainable businesses practices.
I've broken this blog post down into several different subcategories to meet all of your needs whether you're looking for green beauty, groceries or home wares.

But, before we get into that, I want to go over a few of the reasons you might want to diversify your spending.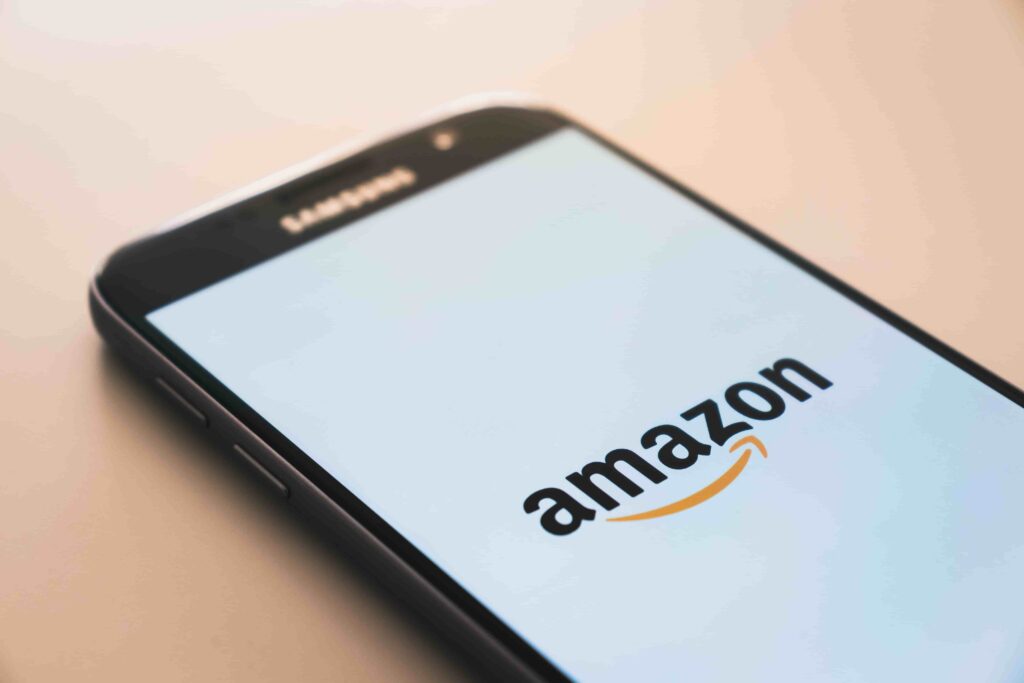 problems with amazon:
According to UBS, Amazon is on track to represent one-quarter of TOTAL retail sales up from 15% last year.
That's a lot of control to give to one company. When it's possible, I'd rather support smaller-businesses that are trying to have a positive impact on their employees and the planet.
Amazon has come under fire for harsh working conditions in their warehouses, and we all know their packaging needs some work!
In 2018 Amazon paid NO US federal income tax on more than $11 billion in profits! Despite being worth more than $1 trillion, Amazon is building a headquarters in Virginia that will cost the Virginia taxpayers $4.6 billion.
They also worked to kill a business tax in Seattle, and raised hundreds of thousands of dollars using a faux grassroots campaign called "No Tax on Jobs".
The list goes on and on, and I for one don't think Amazon could use my dollars quite like some of these other businesses below.
what if I can't find what I need anywhere but amazon?
Sometimes, you're looking for something really specific and Amazon is the only place that has it. That's totally OK especially with everything going on.
I'm just trying to offer different options in case you'd like to diversify your options with a few places to shop online that isn't Amazon.
RELATED: Which Is More Eco-Friendly, In-Store or Online Shopping?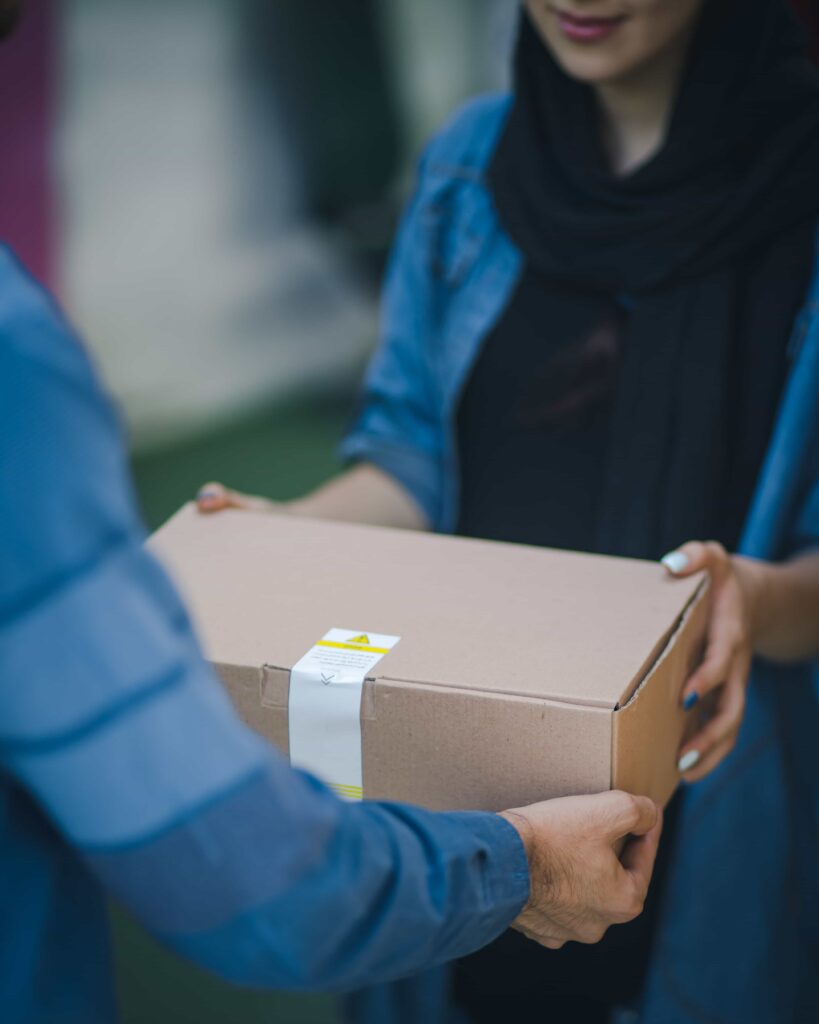 Kathryn, you still have links to amazon on your blog…
Yep, I sure do. I'm in the middle of re-doing my website and one of my big goals is to swap out as many Amazon links as possible.
I want to completely redesign my shop page to make it easier to scroll through and switch out a lot of those old links to promote sustainable brands, retailers, and marketplaces when possible.
But, even when I was switching out links in my blog post 10 Things I Don't Buy Anymore, I really struggled to find a few of those items like fountain pens in the shops I've listed below.
It's just a reminder that it's OK to not be 100% perfect!
And, you can bet I'm absolutely emailing a list of what I couldn't find to a few eco-friendly marketplaces to see if they'd consider stocking similar items so I can switch those links out ASAP.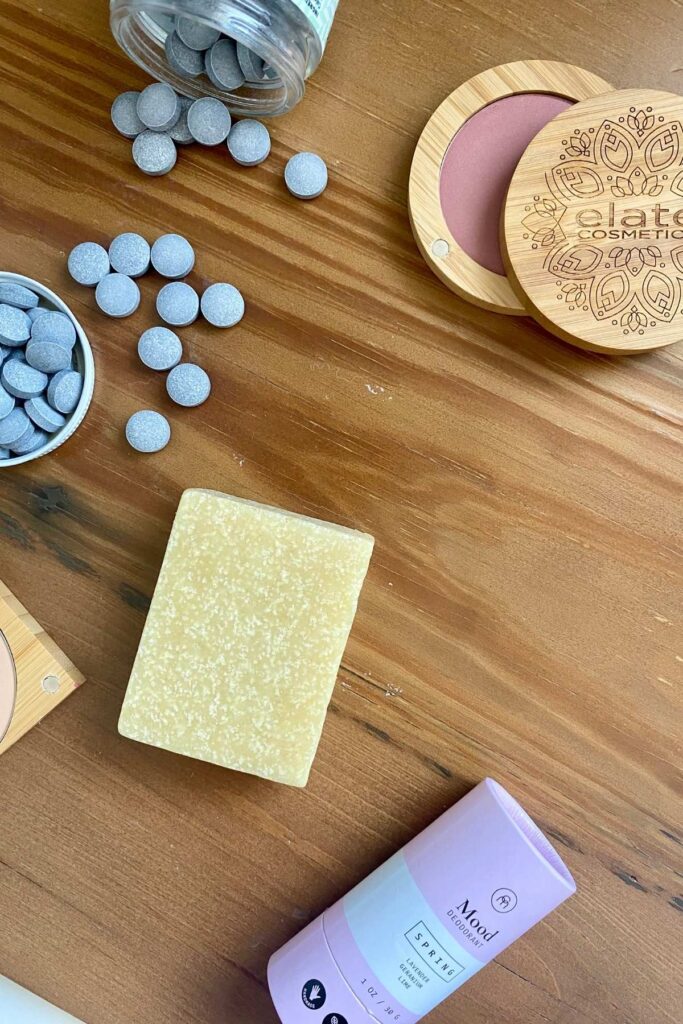 beauty:
Up first, I want to talk about where you can buy sustainable skincare and green beauty products. Everything listed below is a market place that offers many different products.
But, there are a lot of options online so be sure to check out my blog post 20 Organic, Skincare Companies if you're looking for even more suggestions.
elate:
Elate Cosmetics is known for their gorgeously packaged, refillable, and low waste makeup, but they've recently expanded into an ethical market place to service most of your bathroom needs.
Elate Cosmetics focuses on high-quality products from sustainable ingredients that are ethically-sourced and sold in sustainable, low waste packaging. Plus, everything is vegan and cruelty-free.
/ SHOP ELATE /
credo:
Credo is a small, sustainable beauty marketplace that focuses on clean makeup and skin care. All of their products are cruelty-free and they're one of the first brands to dive deep into 'fragrance'.
They rank their products on a scale and encourage brands to fully disclose all scent ingredients!
/ SHOP CREDO /
blk & green:
BLK & GREEN is an online marketplace full of high-quality products made by Black artisans.
Everything they sell is non-toxic, plant based and cruelty-free.
They specialize in skincare, bath, and body, but offer a wide range of products like homewares and makeup too.
/ SHOP BLK & GREEN /
detox market:
The Detox Market has a huge selection of clean skincare, green beauty, and wellness.
They only sell non-toxic, cruelty free products, and they are planting 500,000 trees this year!
/ SHOP DETOX MARKET /
home:
Did you know the number one category of items bought on Amazon is games, toys, and unique gifts?
If that's what you're in the market for and you're looking for a few places to shop online that isn't Amazon, you've got to check out these eco-friendly retailers below.
You'll be extra proud to support these marketplaces that specialize in homemade, handmade, and fair-trade gifts, toys, games, and general homewares.
ten thousand villages:
Ten thousand villages has a huge selection of fair-trade homewares, gifts, and games.
They pioneered the fair trade movement through handcrafted goods specifically designed to fight poverty through commerce and long-term partnerships.
They focus on locally sourced, recycled and renewable materials in all of their products.
/ SHOP TEN THOUSAND VILLAGES /
etsy:
Etsy is full of unique handcrafted pieces to vintage and secondhand treasures from small creators all over the world.
They are the first major online shopping destination to offset 100% of carbon emissions from shipping so every time you purchase an item on Etsy, they balance out the carbon emissions by creating positive environmental impact.
/ SHOP ETSY /
made trade:
Made trade wants to make ethical shopping easy by doing the homework for you.
They answer questions like, "Where was it made? How was it made? Was the maker paid a living wage? Were the materials sourced responsibly?" etc. You can read more about their process here.
They offer a wide range of clothing homewares, clothing, and accessories.
/ SHOP MADE TRADE /
uncommon goods:
Uncommon goods is one of my favorite spots on the web to find gifts. They have a highly-curated website full of handmade items like games, crafts, gifts, and homewares.
They are a certified B Corp, and a lot of their offerings have sustainability stories which you can read on their product sheets.
/ SHOP UNCOMMON GOODS /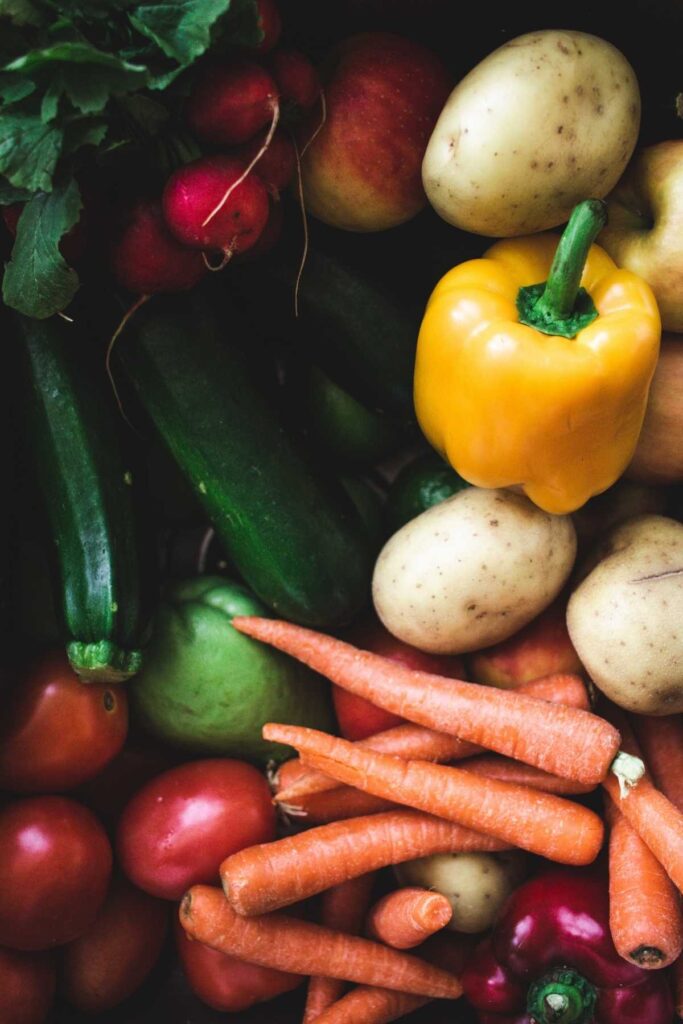 groceries:
I don't know about you, but our bulk bins were removed in March. This made zero waste grocery shopping a little difficult, but I still try and reduce my waste in other ways.
You can get all my tips in my blog post How to Zero Waste Grocery Shop If You Don't Have Access to Bulk Bins.
One of the ways I'm reducing my waste with groceries is by shopping with imperfect foods who rescues food from the landfill.
I know I'm not the only one ordering more of my groceries online. Between March and May almost 80% of American's reported shopping for groceries online.
So, here are a few places you can shop online that isn't Amazon Fresh.
imperfect foods:
Imperfect Foods offers everything from slightly off-spec pantry staples like too-long rice, deli, dairy, fruits and vegetables.
They have saved more than 139 million pounds of food from heading to the landfill, and are supporting farmers in the process.
Many farmers wouldn't be able to sell their products so Imperfect is creating a market for 'ugly' fruit and vegetables. They have also partnered with than 100 organizations to donate food to people in need.
They service a little more than 50% of the U.S. and are continually expanding their service area.
thrive market:
Thrive Market has really expanded to cover all of your grocery needs, beauty, wellness, pets and more.
It really is like a fully online-grocery store but with a focus on ethical & sustainable sourcing.
They are completely carbon-neutral, use zero wast warehouses and package everything in recyclable/compostable packaging.
loop:
Loop is a fully zero waste market place based on the refill or milkman model.
They sell pantry staples as well as household cleaning and beauty products in sturdy reusable containers dropped off at your door.
Once you're through with the product, you place your containers back in the reusable shipping container and UPS will come by and pick it up.
All of the reusable items will be sanitized and refilled for someone else. Loop is quickly expanding globally so check to see if they're available near you.
/ SHOP LOOP /
zero grocery:
Zero Grocery is only available in the San Francisco Bay Area, but they are very similar to Loop.
They work on the milkman model, and will drop off all sorts of grocery options at your door.
This is especially great if you're just moving – you don't have to worry about having any containers since they're all provided for you.
I'd highly encourage you to see if there's something similar in your area.
csa:
Another great way to get groceries delivered to your door is sign up for community supported agriculture AKA a CSA.
CSA's connect consumers with local farmers. Your dollars go to supporting local farms and you get a delicious box of fresh produce each week.
/ CSA DIRECTORY /
sustainability basics:
When I first started going zero waste there were very few shops catering to sustainable items like bamboo dish scrubs, dryer balls, natural loofahs, bars of soap etc.
There are a bunch that have popped up in recent years so you have options to shop online that isn't Amazon.
If you're looking for more suggestions be sure to check out my blog post 5 Shops For All Your Plastic Free Needs.
earth hero:
Earth Hero is a one-stop-shop for everything sustainable. They have the largest selection of eco-friendly products and the best part is they price match so you're guaranteed to get the best deal around.
They're also a certified B Corporation and a member of 1% for the planet so they give back a portion of their proceeds to environmental organizations.
As a bonus, you can get 10% off with the coupon code 'GOZERO'.
/ SHOP EARTH HERO /
eco roots:
EcoRoots was founded by a nature-loving couple living in Colorado. If that isn't couple goals, I'm not sure what is.
They offer a wide array of home, kitchen, bath and beauty products all of which are ethically and sustainably sourced.
Portions of each sale are donated to the Ocean Conservancy to preserve our oceans.
/ SHOP ECO ROOTS /
well earth goods:
Well Earth Goods is based in Oregon, and they offer everything you could want like personal care, laundry, travel, compost and more.
All of their products are shipped in 100 percent recyclable paper-based materials including paper tape.
/ SHOP WELL EARTH GOODS /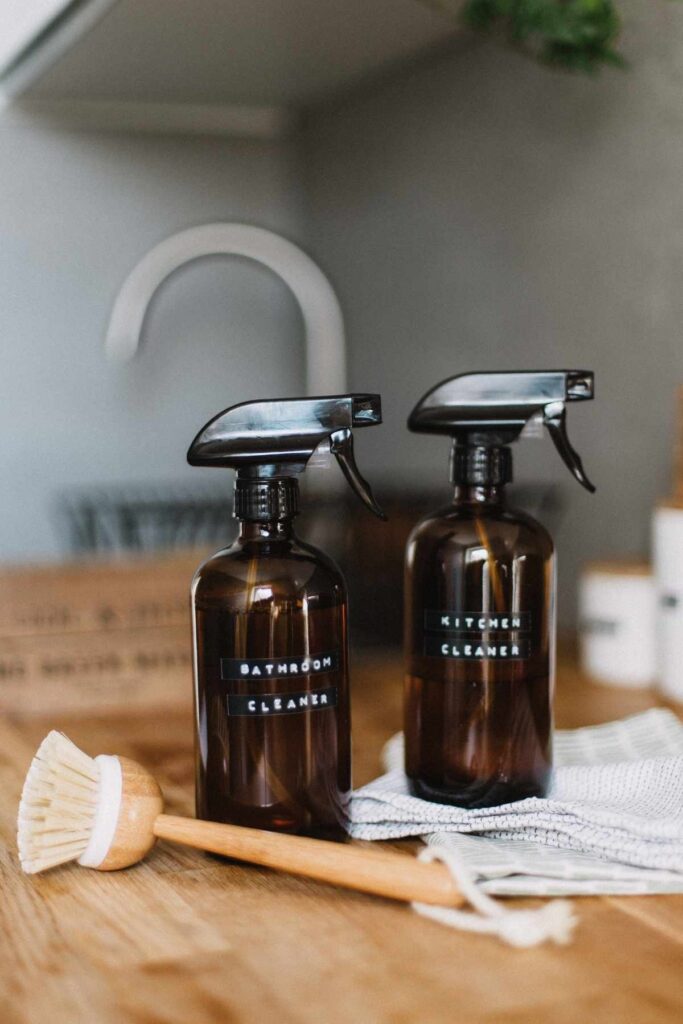 cleaning:
I'm a huge fan of making my own cleaning products. They're simple, inexpensive, and effective, but I know that not everyone wants to DIY.
So, whether you're looking for glass spray bottles or cleaning products you can rely on this cleaning market place has you covered.
And, if you looking for specific direct-to-consumer cleaning company like Dropps, clean cult, or Blueland be sure to check out my post 15 Eco Friendly, All Natural Cleaning Products.
grove collaborative:
Grove collaborative offers a wide range of biodegradable cleaning products and supplies for all your household needs.
They sell premade cleaners, stuff to make your own cleaners, and they even have some refill options as well.
Grove Collaborative is a certified B Corp, they've partnered with seedling to plant 1 million trees by 2022, and their facilities and shipments are carbon neutral.
clothing:
I found myself turning to the Amazon's clothing department when I needed something basic like a neutral tank top or socks.
I know that Amazon has expanded their fashion offering A LOT these last few years so I'm going to list a few of my three sustainable brands that service very different fashion wants/needs.
If you're looking for a more extensive list, you should check out my blog post, 50 Ethical and Sustainable Fashion Brands where I've broken each brand down by price point, size range, where they manufacture, and what makes them sustainable.
And, don't forget to check out my post, 12 Washable and Reusable Face Masks if you're looking for masks!
pact:
Pact makes basics like tanks, underwear, socks, and t-shirts for women, men, kids, and babies.
My mom used to buy really cheap tank tops off of Amazon and they always fell apart with in a few months.
I've slowly been trying to get her to make to more ethical and sustainable purchases and she LOVES pact's tank tops.
In fact, she often calls to tell me how much better and how much longer they last compared to the Amazon ones she used to get!
/ SHOP PACT /
tentree:
Tentree makes elevated basics that are comfortable enough for work from home, going out on the weekend, and getting active!
They make clothing for kids, men, and women, and they also have a large line of accessories like wallets, backpacks, and my personal favorite…. SOCKS!
They're definitely one of my all time favorite brands because their sustainability message is amazing. For every piece of clothing purchased, they plant 10 trees! How cool is that?
/ SHOP TENTREE /
thredup:
If you haven't heard, ThredUp is the largest online thrift store! If you're looking for a party dress, something fun, and show stopping – ThredUp is where you've got to go.
They make it really easy to filter your shopping by color, size, style etc. so you can find exactly what you're looking for, and for more tips be sure to check out my blog posts 6 Tips for Mastering Secondhand Shopping and 10 Places to Shop Secondhand Online.
/ SHOP THREDUP /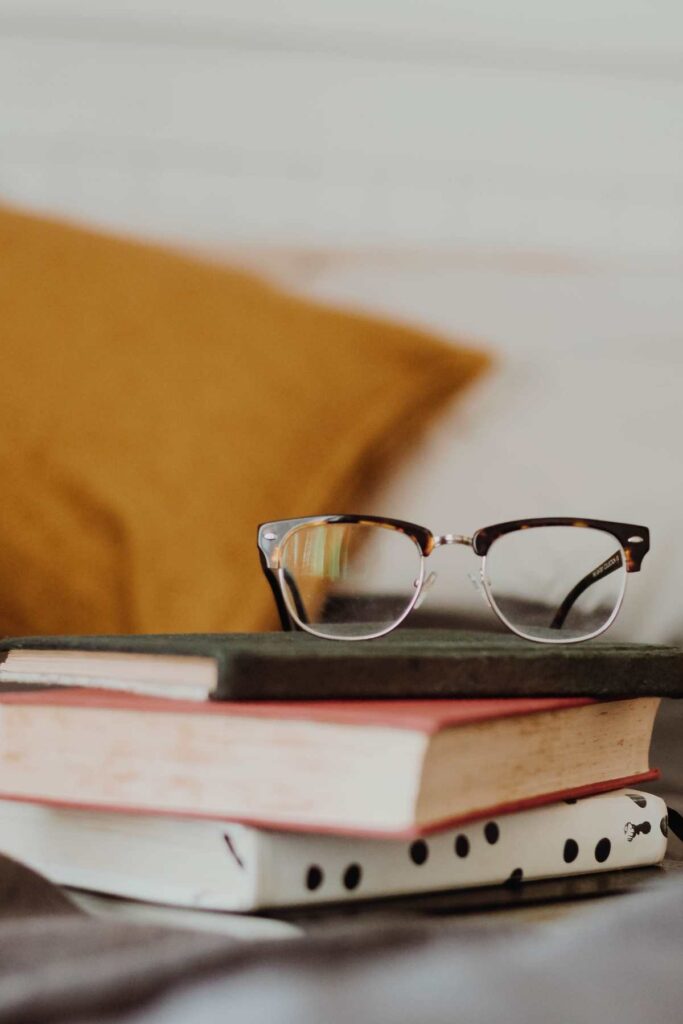 books:
I'm probably MOST excited about this category because it's pretty difficult to get books without the help of Amazon.
I love supporting authors and my local bookshops – and thanks to this super cool platform you can do all of those things AND order your books online.
Cheers to breaking up with Amazon, and can I recommend 101 Ways to Go Zero Waste as your first Bookshop purchase? 😉
bookshop:
Bookshop supports independent bookstores by partnering with independent bookshops through an affiliate scheme, and 10% of their regular sales go to an earnings pool that's evenly divided and distributed to independent bookstores every six months.
So, far they've raised more than 6.5 MILLION dollars!
/ SHOP BOOKSHOP /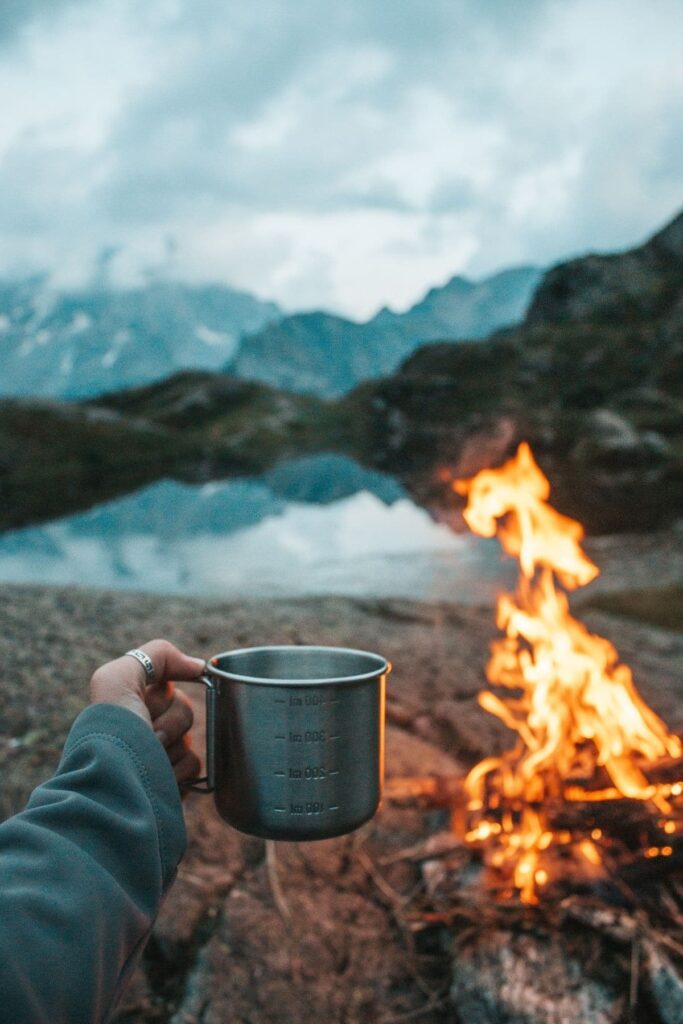 outdoor:
This is my last category in the post!
If there are any categories you find yourself searching for on Amazon, please let me know in the comments down below and I will do my best to find a more sustainable shop to replace it.
rei:
REI has a huge selection of outdoor gear for your next camping trip and/or clothing for men, women and kids.
One of the things I love about REI is that they gave back more than 70% of their profits in 2018. They invested $8.4 million in 431 nonprofit partners that create access to the outdoors as well as over a million in rewilding projects.
/ SHOP REI /
patagonia:
Patagonia sells men, women, and children's clothing as well as gear for all outdoor activities.
One of the things I like about Patagonia is that they have a section of their website dedicated to selling pre-loved items to fuel the secondhand economy and promote re-using, re-wearing, and the value that comes with investing in high quality pieces.
They also do A LOT of work with activism.
/ SHOP PATAGONIA /
barebones:
Barebones is a new one for me, but they offer a highly curated selection of beautiful and practical items for camping, gardening, and foraging, whittling and other outdoor crafts and hobbies.
They're a certified B Corp, and felt like they deserved a spot on this list for a different type of outdoor hobby.
/ SHOP BAREBONES /
---
I really hope that you enjoyed this post and that you found it useful! Please let me know if there are any other categories you think should be added to this list?
And, I'd love to know if there are any places you shop online that isn't Amazon?
The post Where to Shop Online That Isn't Amazon appeared first on Going Zero Waste.