Welcome to the 2020 Going Zero Waste gifts guide! Creating gift guides every year is one of my favorite blog posts to write.
Both my mother and I have the love language of gifts, and I've worked to reconcile that with adopting a more minimal and low-waste lifestyle.
In fact, I think my love language has shifted more to acts of service. I love when Justin empties the dishwasher and makes the bed!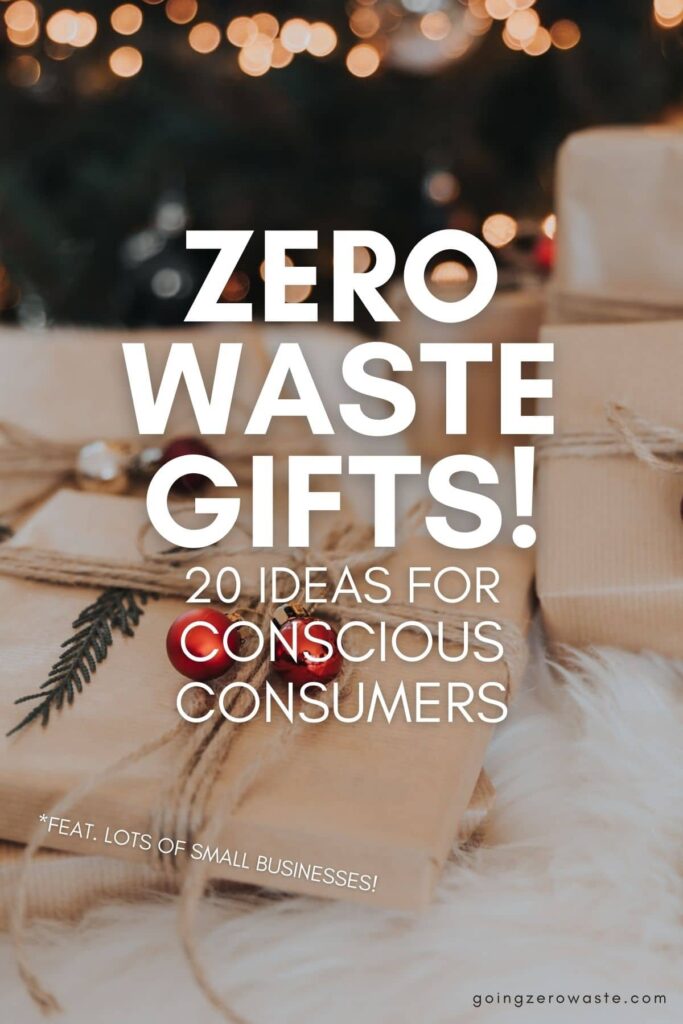 This post was sponsored. Some of the links below are affiliate links for more information please see my disclosure policy.
But, the fact remains, I still love gifting and receiving physical gifts. I love gifting experiences and consumable gifts, but I also love giving physical things too.
Gifting physical gifts is a rare opportunity to spread the sustainable living message in a kind way.
I've gifted small reusable items like a nice water bottle or silicone sandwich bags (both of which are in my stocking stuffer guide!) and watched my non-eco parents and friends love the products SO much that they started adopting more zero waste habits.
If you've ever gifted a zero-waste swap, then you know what I'm talking about!
I've divided this blog post into a few separate categories so you can easily find the perfect gift for everyone on your list.
gifts for getting outside
gifts for the kitchen whiz
gifts for getting snuggly
gifts for your jewelry collection
gifts for your bathroom counter
gifts for getting squeaky clean
gifts for the kids
gifts for getting outside:
Now, more than ever, getting out of the house for a short walk with Nala feels like the best thing in the world.
When working from home there's no water cooler or the ability to walk around the office so it can be pretty easy to stay seated all day long.
Make sure that you and your loved ones are taking a little bit of time to get out and enjoy the fresh air.
These two brands, are perfect for becoming more active and embracing all the nature around you.
tentree:
Tentree plants 10 trees for every single purchase made, and they've planted over 50 MILLION trees all over the world in countries like the US, Madagascar, Nepal, Indonesia, etc.
And, they're a certified B Corp to boot!
I've been living in their Laurel pants which are crazy comfortable, perfect for working from home, and taking a long walk around the neighborhood. They're made from 100% TENCEL™ Lyocell which is a zero-waste fabric.
All of tentree's every day essentials are made using eco-friendly, sustainable, and/or recycled materials, but they recently launched their most sustainable collection yet.
You can get 10% off your order with the code 'GOINGZEROWASTE'.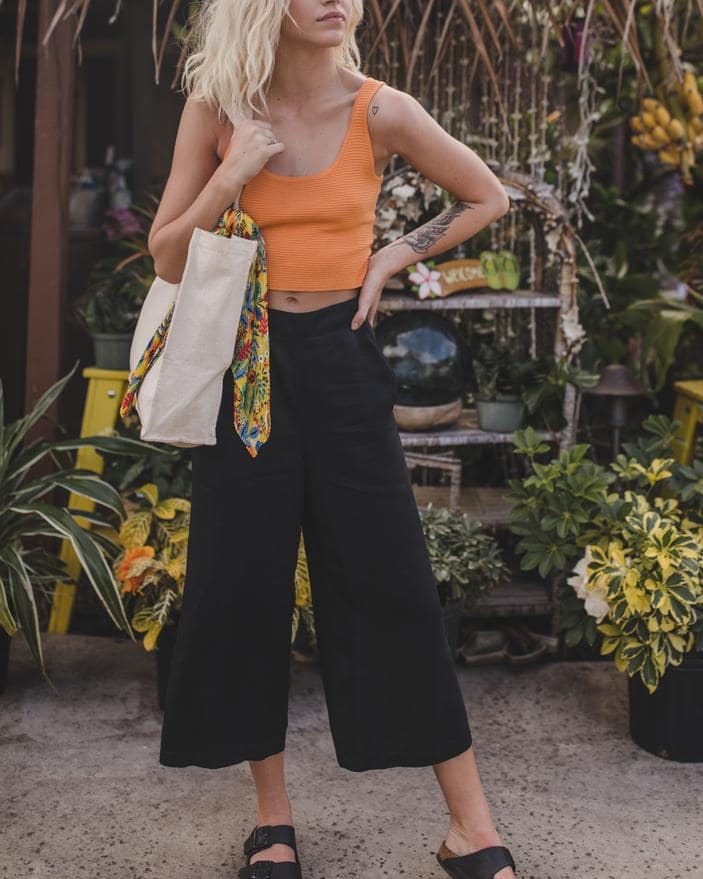 satva:
Satva is one of my favorite activewear companies. They're a sustainable, inclusive clothing brand that utilizes organic cotton and recycled polyester in their attire.
Their Onyx Bra, Kara Jogger,  and Partha Jacket are customer favorites and would make excellent gifts for anyone who loves to take a virtual HIIT class or take long hikes.
Satva works directly with farmers and producers to ensure fair wages, and quality standards are being met every step of the way. 
All Satva products are made from non-GMO, high quality organic cotton and only non-toxic plant dyes. All their farms and factories are Fair Trade and GOTS certified.
Satva's give-back program focuses on sponsoring education for young girls in the Indian villages they operate to offer lasting impact.
bagmaya:
If you want to go on a longer trek and need something to carry your belongings, you've got to check out Bagmaya.
They create sustainable backpacks, bum bags and even yoga mats from sustainable materials like hemp and natural cotton dyed using natural materials like flowers.
They use plastic-free packaging, carbon neutral delivery, and donate 10% of their profits to Yuwa, a local charity in Nepal for youth empowerment.
Their sustainable Naila Bum Bag is 100% vegan, cruelty-free, and handcrafted with natural hemp in Nepal by people from disadvantaged communities.
Use the code goingzerowast10 for a 10% discount!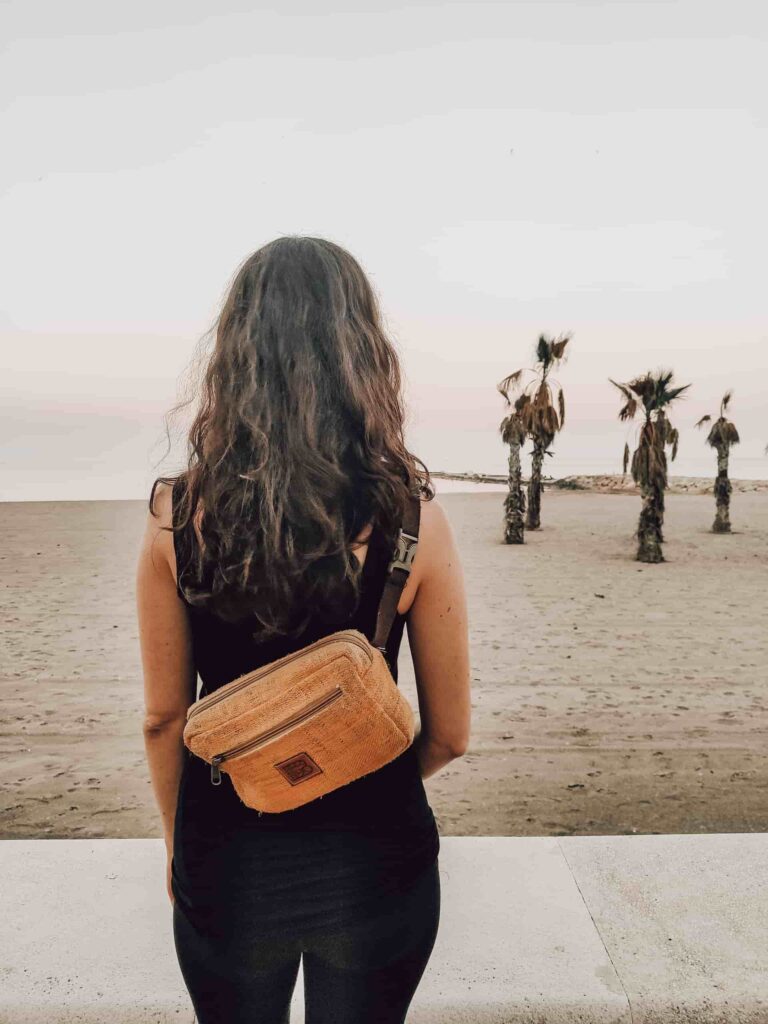 gifts for the kitchen whiz:
How are you in the kitchen? I feel like baking, cooking, and gardening were all hot topics this year.
Did you try any of the big trends like regrowing your lettuce? Maybe you're a pro at making banana bread or even started a sourdough starter?
If this describes you or any of your loved ones then these gifts will be a real treat! (… get it?)
simple switch:
Simple Switch is an eco-friendly Amazon alternative with 1,000s of awesome gift ideas. Everything sold creates a positive social and environmental impact so you can feel good about your purchase!
They're woman owned, climate neutral, and plastic neutral certified.
They specialize in low waste and fair trade products that are handmade or crafted in small batches by real people. And, if you or someone you know is a foodie, you've got to check out their food and drink section!
They have so many amazing products, but I had to list a few of my favorites.
For 15% off or $10 off (one or the other, whichever you prefer) with code IMPACTFORGOOD!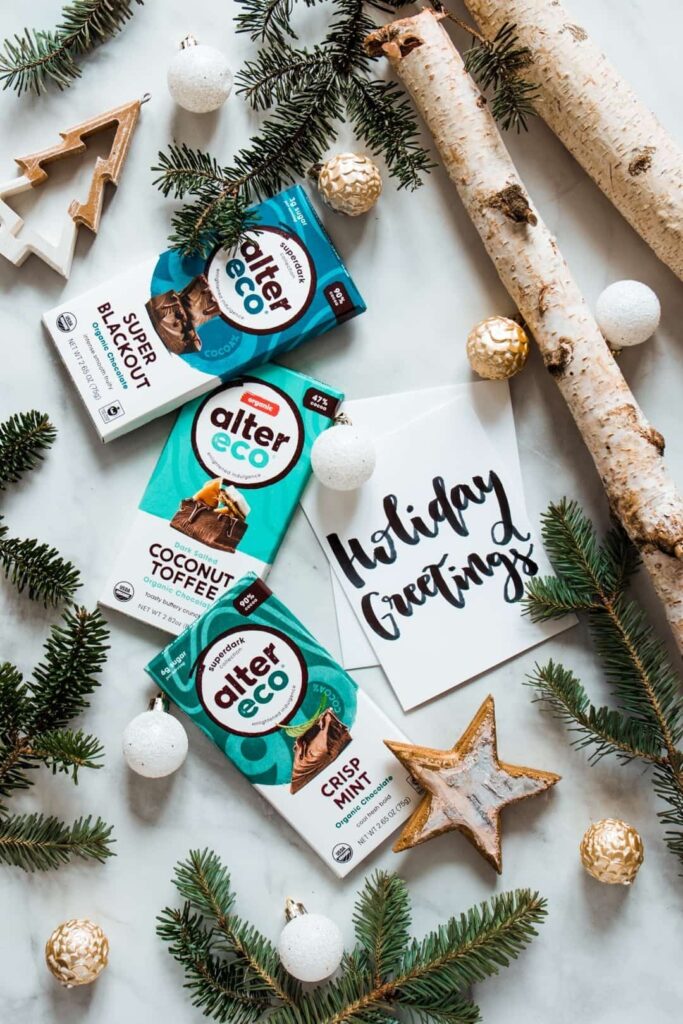 aerogarden:
If you're looking to start your very own garden, then you've got to check out Aerogarden. They create a garden unlike any other offering an easy, energy efficient way to have fresh food without the hassle or soil.
With the Aerogarden, you can grow flowers, herbs, greens and veggies in a small space all year long. 
The Harvest is a sleek, 6-pod countertop garden that's small enough to fit in most kitchens. You can grow gourmet herbs, salad greens, heirloom tomatoes – even petunias. 
Each garden comes with an energy efficient LED grow light, a seed kit, power adapter, and plant food liquid nutrients so you'll be ready to harvest in a few weeks!
earth hero:
Whether you've been cooking up a storm this year or not, I can almost guarantee that you're doing more dishes – I know that I am!
This dishwashing kit from Earth Hero is a must. It's got everything you need to make this daily habit a bit more eco-friendly and save you a bunch of money!
Bamboo dish scrubs last forever, and are a great alternative to sponges.
Earth Hero is a sustainable Amazon alternative that has everything you need for living an eco-friendly life!
They're a certified B corp based in Boulder, CO. They're partnered with 1% For The Planet, meaning they donate at least 1% of their annual profits to nonprofits that help the environment. 
Plus, they offset the carbon footprint for all of their purchases!
As a bonus, you can get 10% off with the coupon code 'GOZERO'.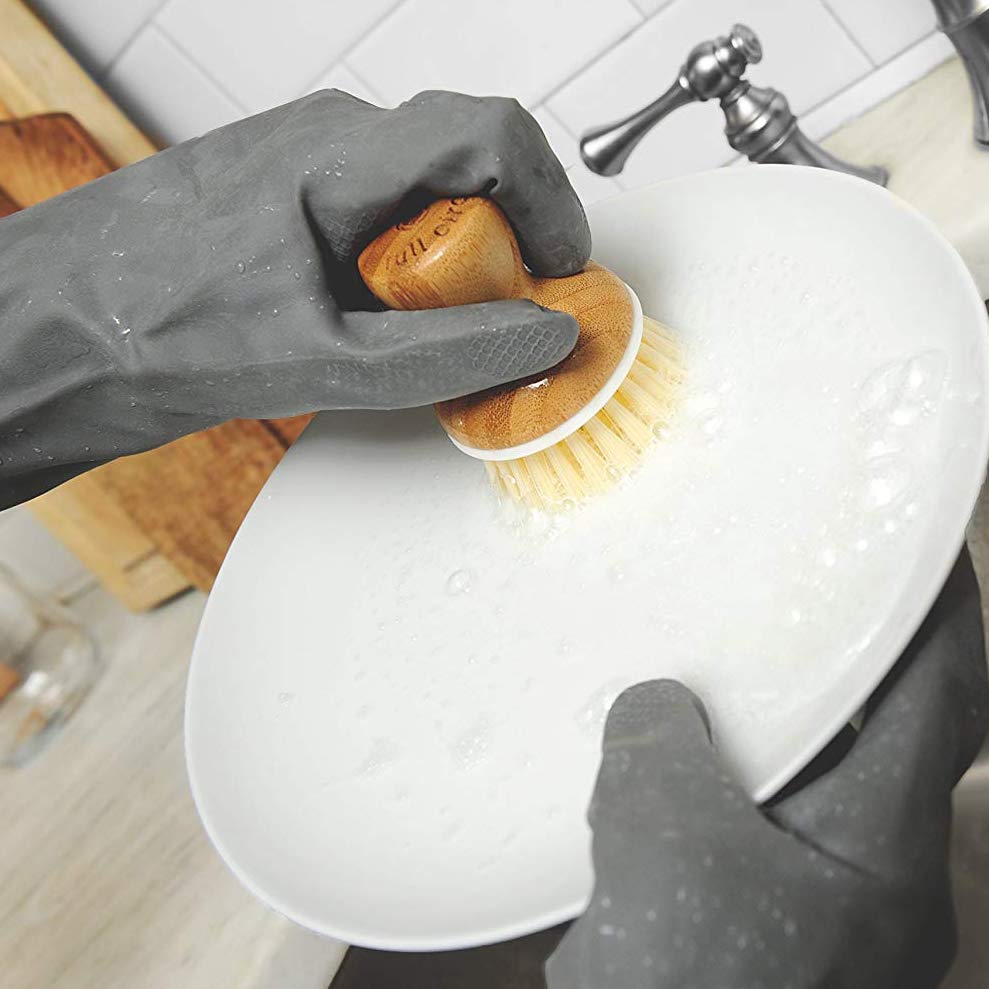 mr. bowl ceramics:
Speaking of dishes, can we talk about Mr. Bowl Ceramics? Because OMG their handmade tableware – is gorgeous!
This small business is all about long lasting, high-quality, artisan pieces that are designed to be passed down for generations.
Their midnight set of 2 plates and a bowl would be a beautiful set for someone who just got their own place or the cinnamon snow large round platter for someone who loves to entertain.
When it comes to shipping breakable items, things can get a bit tricky, but Mr. Bowl Ceramics has cracked the code!
Their boxes and paper are made from recycled materials, and they use compostable corn starch packaging peanuts which dissolve in your sink in under 30 seconds.
You can get 20% off with the code GreenChristmas.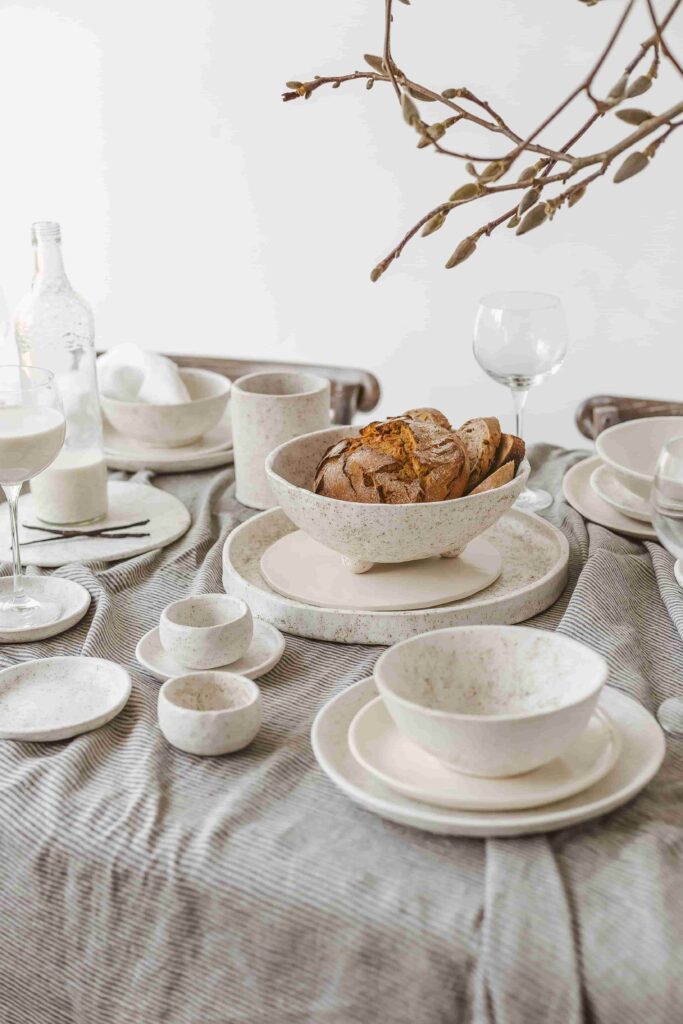 gifts for getting snuggly:
I'm not a big fan of winter as a season… but the one thing I do like about it is how restful it can be.
Summer with it's long days and warm weather calls you to be active and adventure (see gift recommendations part 1) where as winter seems to be the exact opposite. Winter beckons you inside to snuggle up by a fire or curl up in bed with. a good book.
american blossom linens:
Manufactured in the U.S.A., American Blossom Linens creates organic cotton bedding Their sheets are never made using heavy dyes or chemicals and come packaged in 100% recycled content.
All of their organic cotton is grown in West Texas, and farmed without any water-polluting pesticides. Their sheets are all crafted by experts who have been making bedsheets for over 100+ years.
These American Made Organic Colored Cotton Sheets are dye-free and will grow softer with each use – and you'll get a lot of use out of them as they're meant to least a lifetime.
They're running a 20% off sale this holiday season, and they also offer Gift Cards!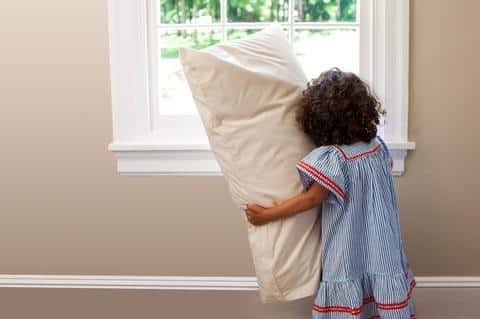 made trade:
Made Trade is a great destination for gifts because you can shop your values with their sorting criteria like sustainable, fair trade, POC-Owned, woman-owned, made in USA, vegan, and heritage. 
They make ethical shopping easy by doing the homework for you by answering questions like, "Where was it made? How was it made? Was the maker paid a living wage? Were the materials sourced responsibly?" etc. You can read more about their process here.
As far as cozy and snuggly gifts go, you've got to check out Kyrgies slippers. Your feet will be so toasty in these super popular, timeless slippers! They're hand crafted in Kyrgyzstan using felted wool and low impact dyes.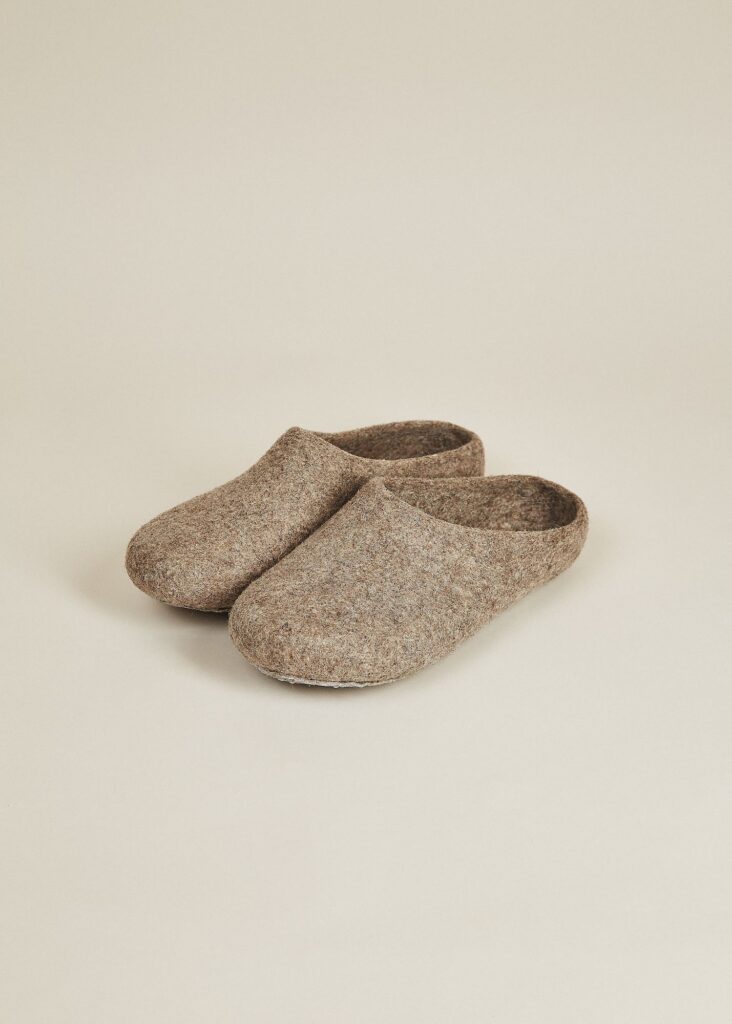 sol organics:
SOL Organics makes affordable organic bedding using using natural fibers, and always fair trade.
They use only non-GMO, certified raw 100% organic cotton, manufactured in a FLO-certified factory.
They believe in giving back so $7.50 of your purchase goes to one of four charities of your choice: Children's Defense Fund, Anti Racism Fund, Water 4, and The Fund For Animals.
They're also fair trade certified which means they pay their workers living wages and are treated with respect and dignity.
I love their silky smooth Sateen Sheets, and you'll want to snuggle in bed with them all winter long.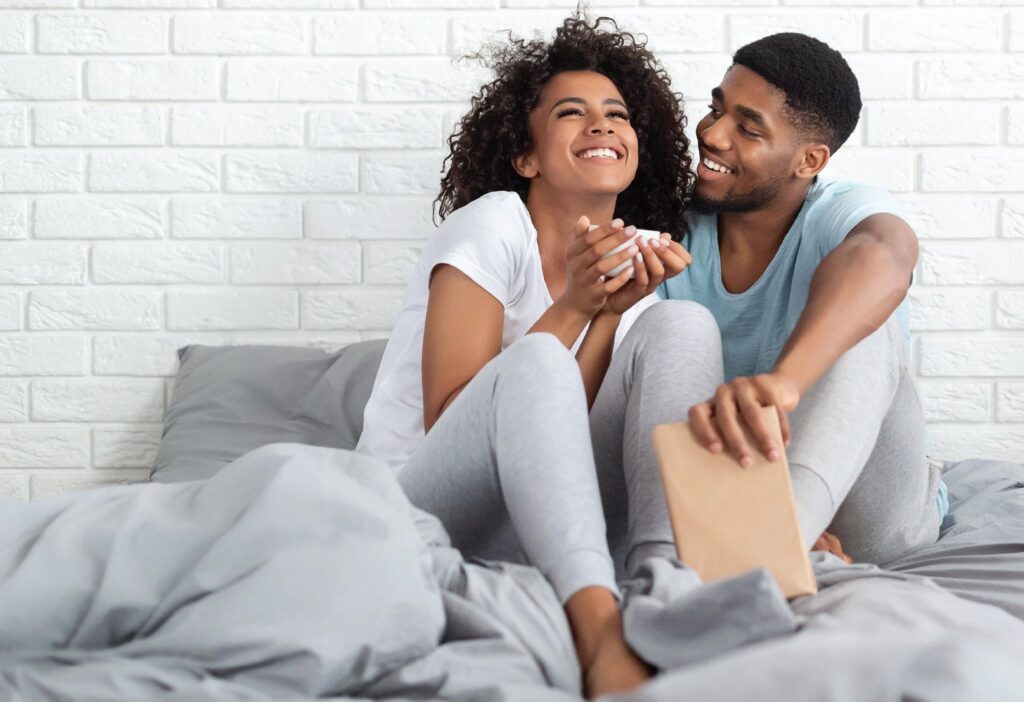 gifts for your jewelry collection:
My favorite thing about well made jewelry is that it can be passed from generation to generation. I have a piece of jewelry from every woman in my family which makes each piece extra special.
The majority of my collection is heirloom so everytime I put on a piece I think of my family and it brings a big smile to my face.
Several of the pieces are from women who've passed away, so it's almost like. a physical representation of them being with me.
Both of these jewelry brands create quality, eco-friendly pieces that are surprisingly affordable so, if you wish, you can pass these items on in the future too.
luna & rose
Luna & Rose is a sustainable jewelry brand with Closed Loop Production using 99% recycled sterling silver and recycled solid gold in the creation of their products.
Their zodiac star sign necklaces and saint pendant necklaces would make stunning gifts. I wear my St. Christopher all the time!
This brand is artisan focused, preserving the age-old craft of silversmithing and these traditions passed down through families on the island of Bali. 
The silver is recovered from miscellaneous sources such as industrial scraps and end of life applications (like electrical scraps and electronics).
The beautiful thing about precious metals is they can be melted down and remodeled – so Luna & Rose recently launched their "buy-back" system whereby you can donate your old unused silver and gold jewelry to be recycled and they'll gift you a voucher to spend online in return.
You can use the code KATHRYN10 for 10% off!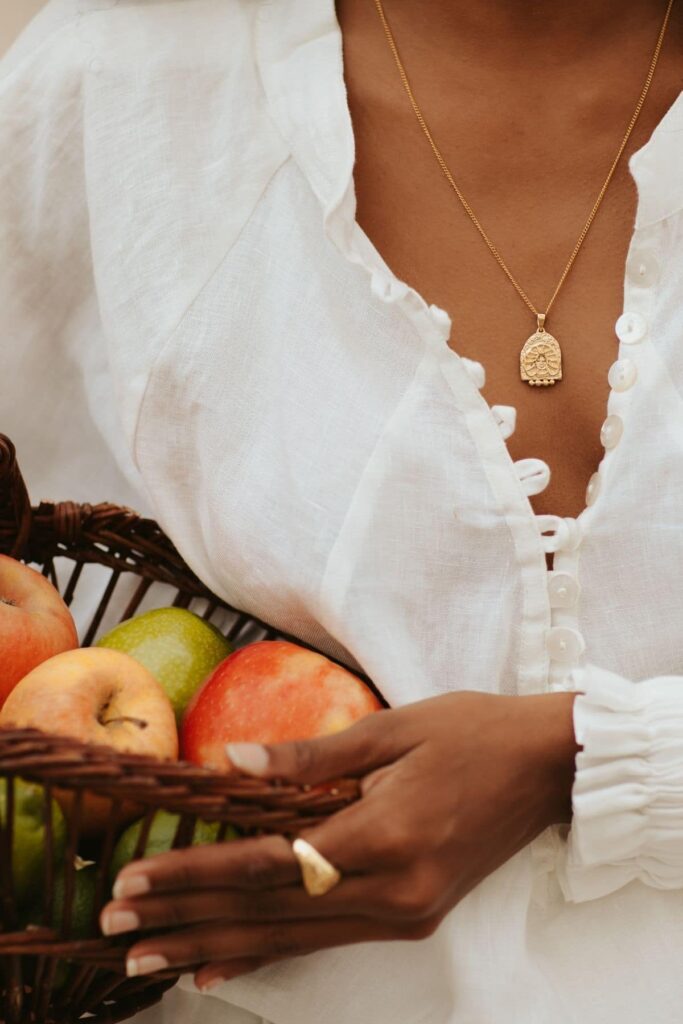 rellery:
Rellery jewelry is designed and handmade in Rhode Island with a focus on ethical practices. They're female founded and 90% of their team is woman run. 
They focus on precious metals like silver and gold neve nickel or brass so they're great for allergy-prone skin. Each product has a lifetime tarnish guarantee which means they'll fix it for free! 
They have a bunch of products I like, but here are my top three.
Their sunflower necklace evokes joy, sunshine and adoration.
Their choker necklace with a single freshwater pearl and a Cuban link chain is dainty and elegant all at once.
The square signet ring lets you customize and engrave names, dates, initials on it: It fits three lines of text.
You can get 15% off your order with the code KATHRYN15!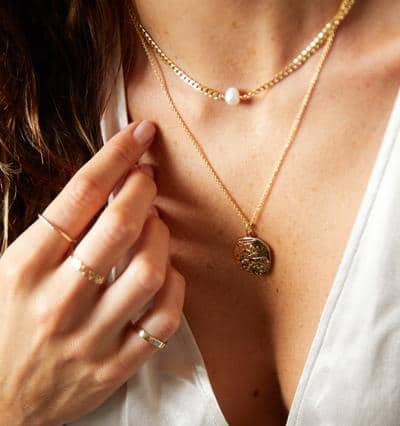 gifts for your bathroom counter:
Now, I know the bathroom might sound awfully practical, but I think practical gifts are the best zero waste gifts, don't you?
After all the core message of zero waste and eco friendly living is to buy what you need, use, and love. And, after the great TP shortage of 2020 I can't think of a better gift to receive and/or have on hand!
bampoo:
Bampoo makes bamboo toilet paper that helps save the earth, one poop at a time. Their toilet paper is tree-free, plastic-free, chemical-free, and delivered right to your door.
Conventional toilet paper cuts down 27,000 trees every single day contributing to deforestation.
So, bampoo skips it all together by using bamboo which can grow up to 3 feet per day and matures in just two years compared to 30 years for trees!
Their bamboo toilet paper comes in 12 jumbo rolls that are 3-ply and sustainably sourced from FSC approved farms (no panda food is harmed). 
Use the code VOTE4TP for a discount.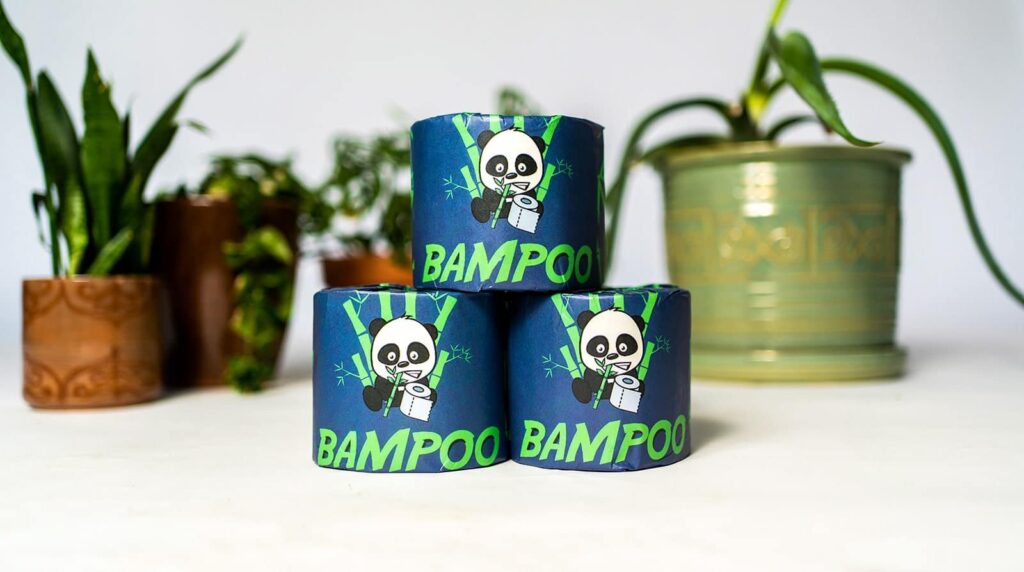 josie maran:
Moisturizing your face is an absolutely necessity in winter so if you know someone whose skin is in need of extra love? Gift them Josie Maran's Skin Dope Full Spectrum Duo.
This gift set features CBD infused goodies such as the Skin Dope CBD Recovery Moisturizer and argan oil. It also comes with a limited-edition travel bag made from 65% recycled cotton.
First, the moisturizer replenishes and revives skin, while the CBD infused argan oil locks in that goodness with extra calming effects.
All of Josie Maran's argan oil is harvested from a UNESCO proected region to ensure sustainable practices!
The kit features organic argan oil in glass bottles. Everything is recyclable, cruelty-free, paraben free, phthalate free and synthetic fragrance free.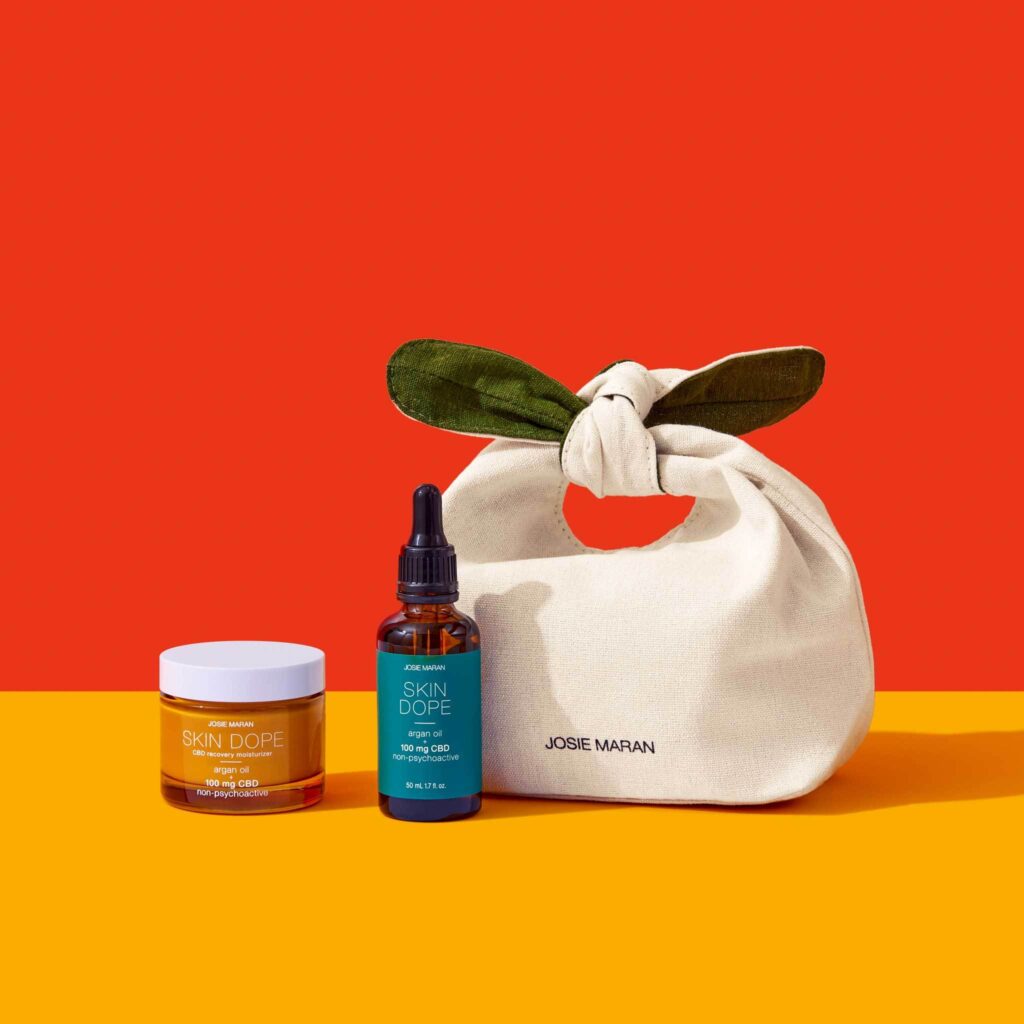 zero waste kits:
While the bathroom is a small room in the house, it can absolutely pack a wasteful punch. Zerowaste.com is working on easy solutions for people just getting started by creating fully assembled kits.
Their zero waste bathroom kit comes with a bamboo toothbrush, shampoo bar, vegan floss in a reusable glass jar, toothpaste in a glass jar, a deodorant bar, and a small stainless steel container with a silicone lid for storage. 
Beyond just kits, they also have great zero waste resources on their website organized by city.
You can get 20% off with the code GOINGZEROWASTE20.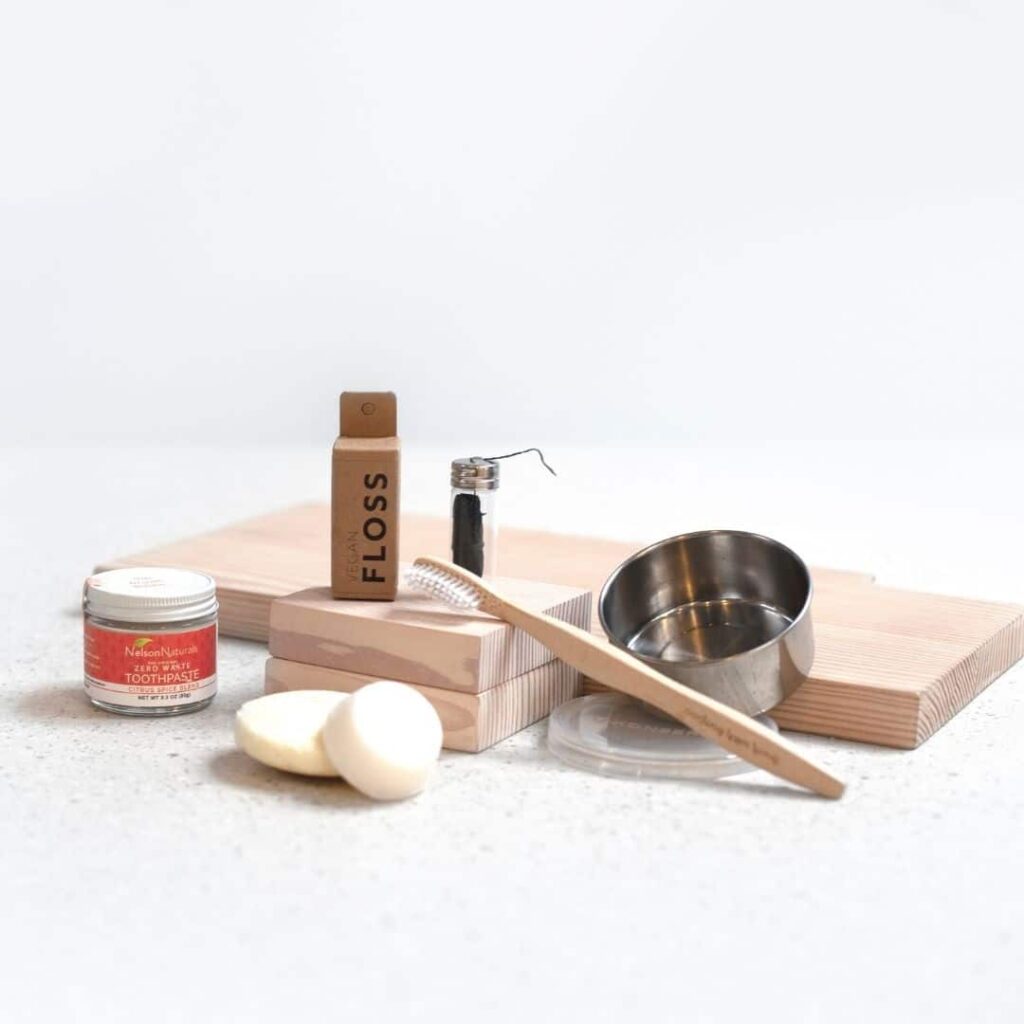 gifts for getting squeaky clean:
Not only am I cooking more… I"m also cleaning more so I'm excited to share a few products with you that can make this task a little easier. Especially for when you're doing laundry!
To be perfectly honest, I REALLY don't like doing laundry, but these items will make the task easier, more eco-friendly, and wonderful zero waste gifts.
dropps:
Dropps is a zero waste cleaning company that specializes in all things laundry. They're vegan, cruelty free, have compostable packaging, carbon neutral shipping, clean ingredients, and it only costs .22 cents a load!
Can you tell I'm a total Dropps' fan girl?
Dropps' pods have a water soluble membrane made of polyvinyl alcohol (PVOH) that dissolve in your washer, even in cold water temperatures, making it waste free.
Their Stain and Odor Laundry Detergent creates a powerful clean with a hint of citrus and a touch of pine – like your laundry was line dried in the sun.
They also have a Sensitive Skin & Baby Laundry Detergent that's unscented, gentler and good for natural fabrics.
You can get 25% off with the code 'KATHRYN'!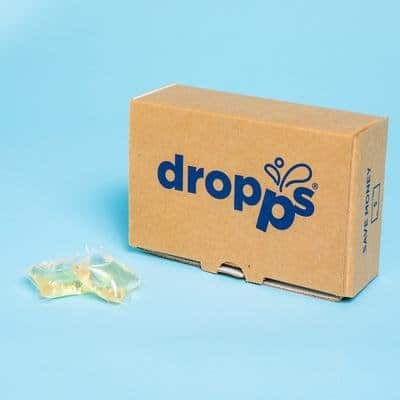 planetcare:
PlanetCare stops microplastic waste that comes from washing clothes. If you're unfamiliar with microplastics be sure to check out my deep dive on the topic: What Are Microplastics?
PlanetCare equips your existing washing machines with an easy to install filter. But, they don't stop there, they're also pushing for legislation change to make microfiber filters mandatory for all new washing machines.
Their filter stops 90% of microfibers from being released into waterways and installing their filter takes less than 10 minutes!
You can get use their subscription model or go with a starter pack with 7 cartridges which is all you need for 7 months of filtering.
When the last filter has been inserted, send the 6 used cartridges back to PlanetCare where the microplastics will be disposed of properly and the cartridges can be reused!
You can get 10% off with the code KATHRYNPLANET10.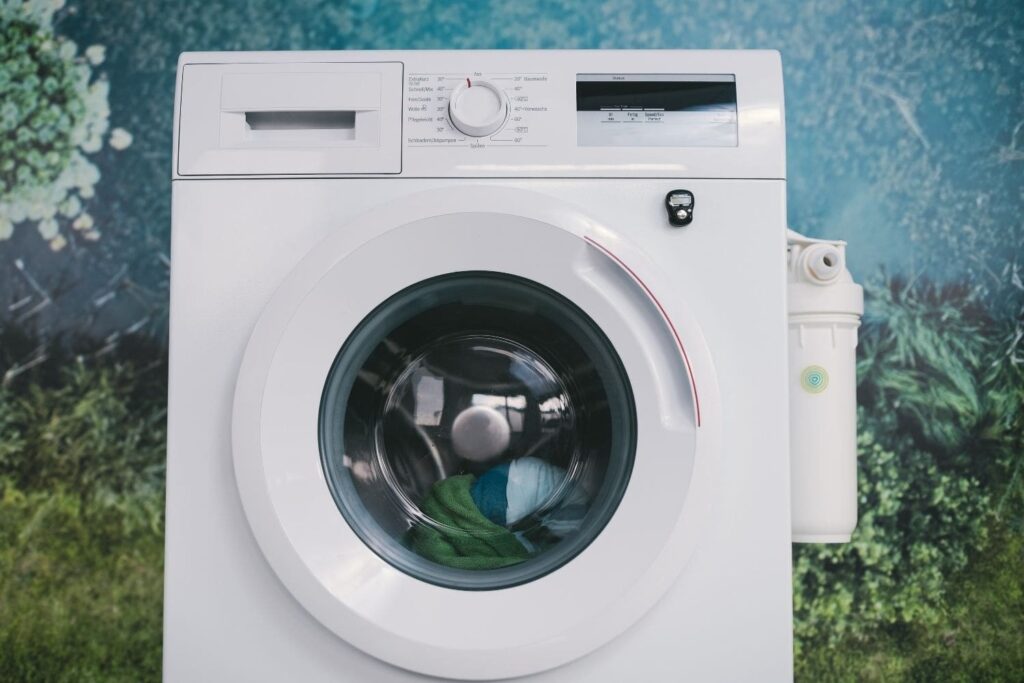 gifts for the kids:
When I say kids, I'll be covering the human kind and the fur kind. I only have a fur kid right now, and I have to say.. I LOVE buying treats for her stocking.
She gets really overwhelmed on Christmas morning and it's SO cute! Since this is just a sample of a few zero waste gifts so be sure to check out my larger guides Zero Waste Dog and Sustainable Gift Ideas for Young Kids.
nature's logic:
Nature's Logic is one of Nala's FAVORITES. They're a pet food company that uses 100% natural ingredients, no synthetic vitamins and minerals, and their bag is made from recycled materials. Their packaging is produced with 100% renewable electricity, and they're plastic neutral!
Each bag of pet food is loaded with probiotics, enzymes, and free of allergens. They have grain-free options high in natural taurine as well, and Nature's Logic diets never contain potatoes, peas or other legumes like soybeans or chickpeas.  
Nala really likes the chicken and sardines which come from the North Atlantic which is the best choice according to Monterey Bay Aquariums Seafood Watch. We choose these foods because of their lower carbon footprints.
I also can't wait for Nala to try a bag of their new peanut butter calming biscuits!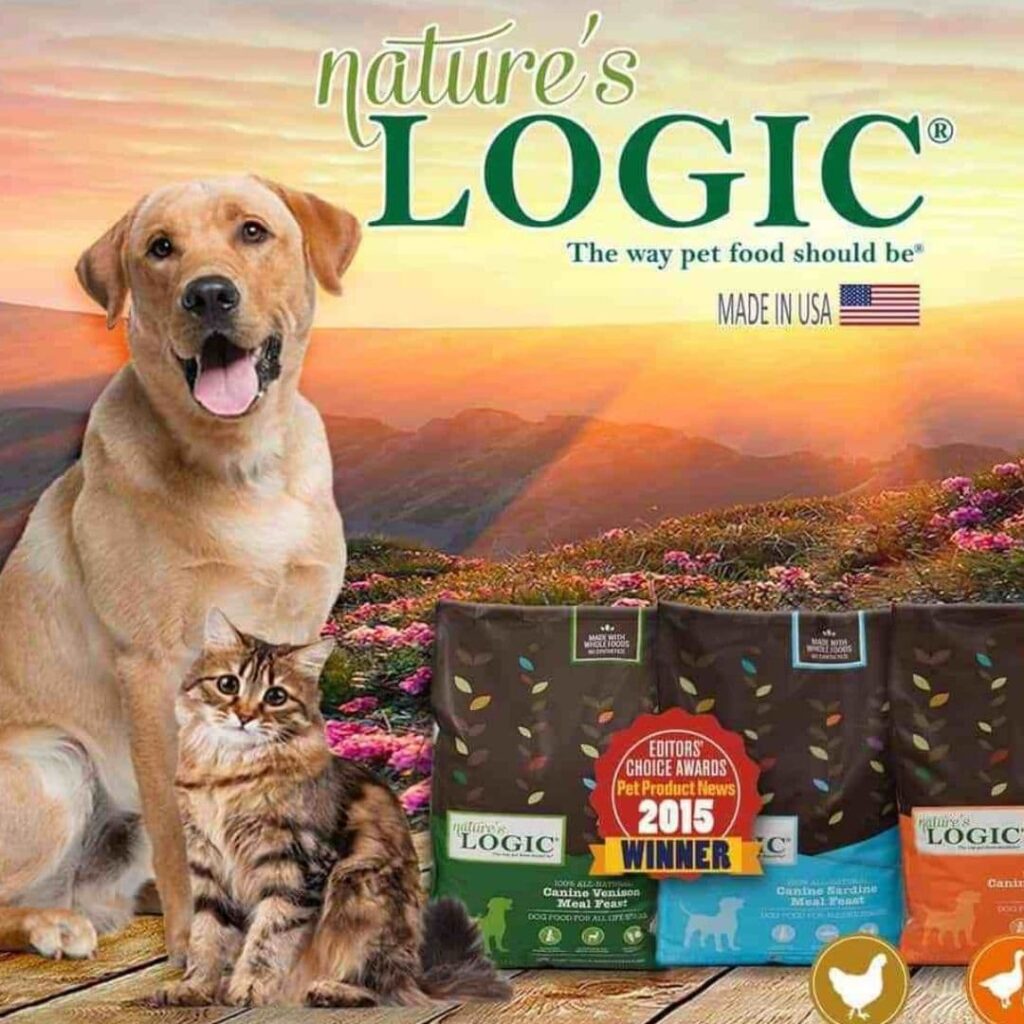 cahoots:
Cahoots is a closed-loop sustainable kids' clothing membership that's unlike any other subscription box. This brand gives kids' clothing multiple lives through artful repair and sharing.
For $15-25 per month, members can borrow as many clothes as they want for a growing child and return them within a year.
This helps reduce the footprint of an item by an estimated 44%, as well as shows kids that vintage and artfully repaired clothes are way cooler than cheap, mass-produced clothing.
You can gift a Cahoots membership to someone who has children: Just choose how long you want their membership to last and how many kids they have. There's even the option to add credit towards borrowing clothes.
Use the code GOINGZEROWASTE for a $10 off gift certificate on borrow orders.
BONUS!
Now that you've secured your goodies, it's time to wrap them! I've got a full guide on zero waste gift wrapping ideas, but I wanted to include an awesome company that's making gorgeous reusable wrapping paper too!
reusable wrapping:
Approximately 4.6 million pounds of wrapping paper is produced in the U.S. each year––much of which is not recyclable––and of that, about 2.3 million pounds ends its life in landfills.
Evergreen Wrapping creates beautiful, long-lasting, fabric wrapping that can be reused year after year right here in the U.S!
If you're confused on how reusable wrapping paper works, they've got a great. how to video on their website, and I mean take a look at the photo below. Isn't gorgeous! I'd love to see a few of those packages sitting under my tree.
You can use the code code "GoingZeroWaste" to save 20%!
What will you be gifting this season? How are you spending the holidays?
The post Zero Waste Gifts: 20 Ideas for Conscious Consumers appeared first on Going Zero Waste.